What Daughters Need from Dads
Ken R. Canfield, Ph.D., The National Center for Fathering
Thursday, August 25, 2005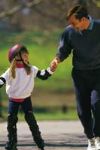 Relating to daughters doesn't always come naturally for dads, but we can learn to connect in affirming ways. We testosterone-filled males can relate well to girls, and it doesn't require a huge adjustment in our approach. We have so much potential power to influence their self-esteem, their independence, and their healthy body image. Many experts are even finding that our masculine approach in relating is beneficial for daughters, not a hindrance.
Here are five key things that daughters need from their dads, based on research among several thousand dads:
Guidance
Jeremiah 6:16 says, "Stand at the crossroads and look; ask for the ancient paths, ask where the good way is, and walk in it." As a girl matures, she comes to some significant crossroads. There are important life decisions ahead, and she needs the benefits of her dad's life experiences and wisdom as she considers options and thinks through possible consequences of her choices. That's right; we are "the ancient paths" of wisdom for our daughters.
We might tend to think more about guiding our sons, and letting Mom have those important talks with our daughters. But girls need their dad's perspective as well.
First, guiding means discerning what's right in the midst of all the gray areas in our culture. Young women are under a lot of pressure to look, act, and be a certain way — to maintain a certain image. They also face expectations in regard to their future aspirations. Often, we men can bring an analytical approach to help clarify the picture and guide them along.
We can also guide through correction. Guidance really is the ultimate goal of discipline. Enforcing limits and consequences is important, but especially with daughters we need to make sure we're also communicating about why they're being corrected, and letting them know clearly that, though their behavior may be unacceptable at times, we will always love and accept them as our children.
We also guide our daughters through teaching. That doesn't mean you have permission to start lecturing your daughter. Kids rarely learn from lectures - especially when they're teenagers. Instead, focus on listening, and be actively involved in helping her learn — accompanying her and assisting her in her adventures and pursuits.
Encouragement
When it comes to our daughters' self-images, we're a huge influence — and it goes deeper than appearance. Girls feels pressure to be smart, thin, pretty, and involved in certain activities. We have the ability to make our daughters feel beautiful, inside and out.
First, we need to become comfortable affirming them verbally — giving thoughtful, clear, specific blessings that say, "You can do it," or simply, "I love you." That does include pointing out beautiful physical features, but it's so much more. Compliment character qualities like emotional strength, a sense of humor, loyalty, intelligence and courage. Most of all, make it clear that, even without those features, you'd still love her just as much.
Get involved in her pursuits. Show that she is worth investing your time and energy. Spend time just hanging out together, and be intentional about bringing fun and humor to her life.
Demonstrate confidence in her abilities. You might share something you're working on and ask her opinion, or give her a challenging assignment and express trust that she can handle it. One woman who's now an engineer told me, "Dad demonstrated that there was nothing I couldn't do because I was a girl." If your daughter knows that you think of her as a future achiever, that can change her entire outlook on the future.
Have something to say about this article? Leave your comment via Facebook below!
advertise with us
Example: "Gen 1:1" "John 3" "Moses" "trust"
Advanced Search
Listen to Your Favorite Pastors