A Fine Line: Don't Worry. Be Concerned
Kris Swiatocho, The Singles Network Ministries
Tuesday, April 30, 2013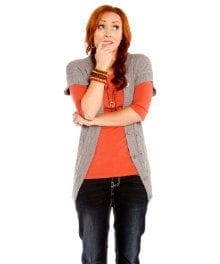 The Fine Line Revealed:
Don't Worry, God Knows What You Need
God reminds us how valuable we are to him. So if we know this, then why do we worry so much about everything? Worrying will not add one more minute to our lives. This is why we need to trust him for all things.
"Therefore I tell you, do not worry about your life, what you will eat or drink; or about your body, what you will wear. Is not life more than food, and the body more than clothes? Look at the birds of the air; they do not sow or reap or store away in barns, and yet your heavenly Father feeds them. Are you not much more valuable than they? Can any one of you by worrying add a single hour to your life? "And why do you worry about clothes? See how the flowers of the field grow. They do not labor or spin. Yet I tell you that not even Solomon in all his splendor was dressed like one of these. If that is how God clothes the grass of the field, which is here today and tomorrow is thrown into the fire, will he not much more clothe you—you of little faith? So do not worry, saying, 'What shall we eat?' or 'What shall we drink?' or 'What shall we wear?' For the pagans run after all these things, and your heavenly Father knows that you need them. But seek first his kingdom and his righteousness, and all these things will be given to you as well. Therefore do not worry about tomorrow, for tomorrow will worry about itself. Each day has enough trouble of its own.
Don't Worry, God Will Speak For You
Most of us have a hard time witnessing to others. We are so afraid of rejection. What if they ask you something you don't know? What if you say something that could get you into trouble? No matter what, remember, the Holy Spirit is always available to do the speaking for you. You just have to allow him.
But when they arrest you, do not worry about what to say or how to say it. At that time you will be given what to say, for it will not be you speaking, but the Spirit of your Father speaking through you.
But Be Aware, Worry Can Distract
Like Martha, how quickly things in our lives distract us from Christ like our TV, cell phones, sports, work and relationships.
"Martha, Martha," the Lord answered, "you are worried and upset about many things, but few things are needed—or indeed only one. Mary has chosen what is better, and it will not be taken away from her."
Do Be Concerned as it Leads to Trust
Abraham would take his son and out of obedience prepare him to be sacrificed to the Lord. Abraham would not worry but trust God to provide what was necessary. God asked the same from us. He wants our time, our service, and our tithes. He wants us to trust him to provide even when we do not see how he is going to do it.
Genesis 21:11-12:
The matter distressed Abraham greatly because it concerned his son. But God said to him, "Do not be so distressed about the boy and your slave woman. Listen to whatever Sarah tells you, because it is through Isaac that your offspring will be reckoned."
Do Be Concerned But Put Christ First
Our concerns, even with the best intentions can become about us. God instructs us to make sure all of our concerns have Him in mind first. So when you are praying about your job, your sickness, your kids, your friends, your boyfriend/girlfriend, etc. you need to ask God what he wants.
Have something to say about this article? Leave your comment via Facebook below!
advertise with us
Example: "Gen 1:1" "John 3" "Moses" "trust"
Advanced Search
Listen to Your Favorite Pastors