Being Single and Making a Difference
Kris Swiatocho, The Singles Network Ministries
Tuesday, June 12, 2012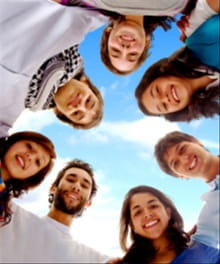 God showed up with a marvelous solution. My niece's husband had just deployed overseas. She desperately needed help taking care of her three kids and asked if I was interested in being a nanny. Wow, what a change it would be in my life. But then, I realized, as a married person, I would have not been able to do this. I prayed and was able to give her a quick answer. It would require a move several states away. I was able to rent my house and move within a week. Since I have been there it's been a blessing on both sides. My grandnieces and nephews may not be my own kids, but God is using them to fill a part of my heart (that was empty due to not having my own). Isn't God good?

All my longings lie open before you, O Lord; my sighing is not hidden from you (Psalms 38:9).

Jonathan

Being single has always helped me maintain my independence and challenged me to support myself. I grew up in a broken home and mostly raised myself as a young man. This has taught me both strength and leadership skills—both of which I have been blessed with to carry on into ministry, work and life in general. With that being said, I am confident as a natural born leader, but humble enough to realize I can't move a step without God leading me first!

In his distress he sought the favor of the LORD his God and humbled himself greatly before the God of his fathers (2 Chronicles 33:12).

Rachel

I was diagnosed with cancer a week before my daughter was born prematurely. I was a single mom facing the long journey of cancer treatment. The weeks, months and now years were difficult, tiring and lonely. As a single, I didn't have a husband that could take care of me during the hard times or help with my newborn.

It was during this time that I knew I had to rely on God with all my strength. It was only through that reliance that I was able to make it through treatment. God blessed me with an abundant amount of help from my church. People rallied around me and helped when I had no strength left to do anything. Had I been married at the time, I do not think I would have experienced community in such a beautiful manner. I drew closer to God and to friends. I would not change my experience for anything.

The LORD is my strength and my song; he has become my salvation. He is my God, and I will praise him, my father's God, and I will exalt him (Exodus 15:2).

Trina

As a single, I was able to care for my mother and be with her a lot more during her illness. I coordinated her care and made sure she was never alone and always felt safe and secure and loved as much as I could. I was actually holding her hand in the hospital as she died—she had suffered a stroke in the end and was lying trapped inside her dying body with no communication skills for a few weeks. It was a miracle and a blessing that I was able to be there, help her communicate and care for her. I wouldn't trade it for anything.

Nobody should seek his own good, but the good of others (1 Corinthians 10:24).

Lyle

A few years ago my parents decided to move closer to me and my sister. They are getting on in age and felt it would be better. Now my sister is married as well as my brothers who live out of town. I have noticed over the years just how much I am needed and valued by my parents. It's not that my siblings don't want to help; it's just they do have other responsibilities of their own families, making it harder to help at the last minute. Besides being single, I also work for myself, leaving even more flexibility to be there for them. Now don't get me wrong, I pray to be married every day. But I also pray to be used by God where I am. And for now, it's being a single.

But for that very reason I was shown mercy so that in me, the worst of sinners, Christ Jesus might display his unlimited patience as an example for those who would believe on him and receive eternal life (1 Timothy 1:16).

Have something to say about this article? Leave your comment via Facebook below!
advertise with us
Example: "Gen 1:1" "John 3" "Moses" "trust"
Advanced Search
Listen to Your Favorite Pastors