Can You Believe What He Said?
Kris Swiatocho, The Singles Network Ministries
Tuesday, October 23, 2012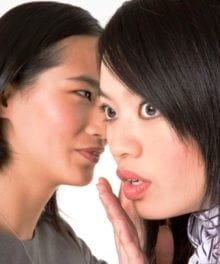 I myself am convinced, my brothers, that you yourselves are full of goodness, complete in knowledge and competent to instruct one another.
1. Look at yourself and make sure your heart is in the right place before you hold anyone else accountable for sin. It's not that you won't have your own sin, but are you aware of it? Are you working on it? Holding someone else accountable is usually when they aren't aware they are sinning or how their sin is affecting others. Accountability brings awareness. If people know you are a humble person, they are more likely to receive your guidance.
Search me, O God, and know my heart; test me and know my anxious thoughts. See if there is any offensive way in me, and lead me in the way everlasting.
2. Before you can hold anyone accountable, you must have a relationship with that person based on trust. That is why our accountability can sometimes come across as gossip or judgment. When there is no relationship, no trust, people have a hard time taking direction from others. If we don't have a relationship, we have no idea what might be going on in someone's life, so we make assumptions. These assumptions start in our minds and quickly become verbal. Once airborne they can spread like a virus causing major damage.
We must be willing to listen, understanding as much as we can about a person's life. Maybe the lady in church dresses so provocatively because she has had a horrible upbringing. Maybe she has never had anyone come beside her and be her friend. Maybe the man who came to church each week with a different family is really ministering to them. Maybe they are his neighbors, his famil,y or people from a local shelter. But how would you know without knowing that person?
Grace alert: Don't ever forget where you were when God found you, where he saved you, where he poured into you (and still does).
My dear brothers, take note of this: Everyone should be quick to listen, slow to speak and slow to become angry, for man's anger does not bring about the righteous life that God desires.
3. Hold others accountable in love. You want to know where the fine line is between judgment and accountability? It's in love. When you love someone, when you see his or her sin, it should break your heart. It should make you sad because you hurt for them. You see where their sin is taking them because you have been there. You want to help them not hurt them. You want them to break free from the sin. You want them to experience freedom and victory. Judging someone is more about being self-focused. It's more about your heart. It's easier to judge someone else than deal with our own mess. Holding someone account requires us to deal with our own junk first.
And he has given us this command: Whoever loves God must also love his brother.
4. Hold others accountable in keeping with God's spirit. We must approach the person gently, praying the entire time that God will have them receive what you say. First, encourage and give praise on what they are doing for the Lord and how they are making a difference. Let them know how much you care about them. After you share with them your thoughts, encourage them to hold you accountable as well. This will encourage an open relationship of trust.
Since we live by the Spirit, let us keep in step with the Spirit. Let us not become conceited, provoking and envying each other. Brothers, if someone is caught in a sin, you who are spiritual should restore him gently. But watch yourself, or you also may be tempted. Carry each other's burdens, and in this way you will fulfill the law of Christ.
Have something to say about this article? Leave your comment via Facebook below!
advertise with us
Example: "Gen 1:1" "John 3" "Moses" "trust"
Advanced Search
Listen to Your Favorite Pastors