Having Patience in All Things
Kris Swiatocho, The Singles Network Ministries
Thursday, April 03, 2014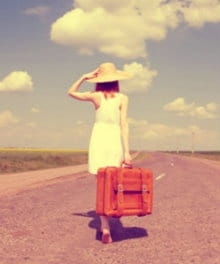 A few weeks ago I attended my cousin's wedding. Various friends and relatives were at the wedding. One relative there was my little cousin Aric (nephew of the groom), a very active seven year-old. Aric and I hit it off right away. We spent several days together helping with the wedding details. As you can imagine, weddings are not something little often kids enjoy. I spent as much time as I could distracting Aric so that his parents could enjoy the festivities.
We were into the second day of our four-day trip when we decided to take a ride in one of the beautiful horse-drawn carriages around downtown Charleston. While waiting for our turn, I noticed Aric was getting very impatient. He squirmed and would occasionally sigh loudly. I finally said to Aric not to worry, that it would be our turn soon, that we just had to wait. We have to be patient. I asked, "Do you know what that means?" Aric turned to me and said, "Yes, I do. It means you have to wait…wait with a good attitude." Hmmm, I thought, he has had this conversation before.
Yes, being patient does mean waiting. But the difference - as a Christian, as a follower of Christ - is the attitude that goes with it. I think of all the things in life that we must be patient for and how my own attitude has been tested. From waiting in line at the grocery store and post office, to something coming in the mail, to our phone's turning on, to the microwave not cooking fast enough...waiting is a part of life.
At Your Job or Career
I never know where I am going to be working or what doors God is going to open or close. I can get tired of waiting sometimes and try and create my own path. I look around and see where God has taken others in their careers. What I sometimes don't remember is the higher you go up the ladder the more responsibility goes with it. It's not what we do in this life but how we use it to bring God glory.
Change
I get so tired waiting for people to change. I get tired of whining, stuck-in-the-spin-cycle people. They constantly talk about their struggles but do nothing about it. But then God reminds me that part of this spin cycle for some is where they will figure it out. Some of us need time to hear ourselves complain to the point we do get tired and make the changes. Some of us, including myself, need to remember we have been in the same place. Listening to our friends share their hurts, their struggles is where we can strengthen our patience. It's where we can gain wisdom for our own lives.
A person's wisdom yields patience; it is to one's glory to overlook an offense (Proverbs 19:11).
Circumstances
OK, so yes, this is my life. This is my house, my city, my church, my friends, etc. But is this it, Lord? Is this the plan? I mean, is this all there is? I thought I would be in a different place by now? I thought I would, ________.
We can all put something in the blank. Some of us are where we are due to sin, some due to others' sin, and some because God places us here. It's a matter of perspective. Perhaps you live where you live to reach your lost neighbors. Perhaps you are at your church because God wants you to help serve. Perhaps you have this set of friends vs. that set because you have a heart for the broken, the forgotten. Maybe our desire to change our circumstances shouldn't be about waiting but about celebrating where God has you, that through being patient God gets the glory.
But for that very reason I was shown mercy so that in me, the worst of sinners, Christ Jesus might display his immense patience as an example for those who would believe in him and receive eternal life (1 Timothy 1:16).
Have something to say about this article? Leave your comment via Facebook below!
advertise with us
Example: "Gen 1:1" "John 3" "Moses" "trust"
Advanced Search
Listen to Your Favorite Pastors