I Married My Mother
Kris Swiatocho, The Singles Network Ministries
Tuesday, January 31, 2012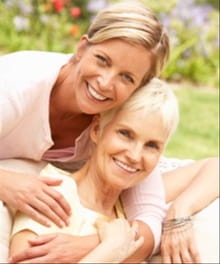 The Next Step
So my mom and I decided to buy a new home together. A new start, a new beginning for us both. We moved about 20 miles from where I had been living. We moved closer to my mom's sister and the town we all grew up in. We found a beautiful home in a quaint neighborhood. It's more house than I thought I would ever get to live in. As each day passes, we have had to learn so much about each other and how to "get along." So what is God showing me, what is he teaching me?

1. I am the most selfish person on the planet and well, I kind of liked it.

This is bad, really bad. In the past I have had many, many roommates. I learned a long time ago that I struggled with selfishness when it came to my home and my belongings. Praise the Lord for he had taught me that if you own something that you are worried about getting broken by a roommate or guest, then sell it or surrender it and whatever may happen to it to God. The other person is way more important than the object. OK, so I thought I had a handle on this selfishness until my mother and I became roommates. I found myself falling into this little girl mode of "my time" and "my room" and "my stuff" and I did this or that. Gosh, who is this person? I thought to myself. Was I still really this selfish about my things? Did I really think it was more important to have what I wanted in the house? I was finding this selfishness was leading to quarreling. And the quarreling leading to hurt feelings. I am thankful to see how much more I needed to grow in this area. How much the things I am so selfish about are really not that important. Not more important than my mom. Not more important than the Lord.
An unfriendly person pursues selfish ends and against all sound judgment starts quarrels (Proverbs 18:1).

Do nothing out of selfish ambition or vain conceit. Rather, in humility value others above yourselves (Philippians 2:3).

2. I have not honored my mother, and I should have.

Well, my mom can sometimes just aggravate the stew out of me. From silly things she says to asking me the same question again to using the wrong remote control causing the TV to get messed up, I found myself yelling at her all the time. Or worse, talking back. Talking back has been a problem I have had since I was a child. However, since I've grown up and haven't lived with her, the occasional lost temper or talking back has been sandwiched in between days and weeks of conversation where I was a wonderful and respectful child. Now that we are living together, I find the least little thing she says or does sets me off. I seemed to stay angry all the time. Angry? At what? I asked myself. Was God allowing this tension to show me something about myself? Perhaps I had not dealt with some anger issues from the past, the present. Did I need to come to my heavenly Father and be healed? Well, in the meantime of my new counseling session with Jesus, my mom made it very clear that she was my mother and deserves respect. And this respect will give me a longer life. But you know, everyone deserves respect. Thank you, Lord, for reminding me that even though we now live together, and there had to be compromise and give and take on both our ends, she is still my mother and I need to honor her.
"Honor your father and your mother, so that you may live long in the land the LORD your God is giving you (Exodus 20:12).

My dear brothers and sisters, take note of this: Everyone should be quick to listen, slow to speak and slow to become angry, because human anger does not produce the righteousness that God desires (James 1:19).

3. I didn't listen well enough.
Have something to say about this article? Leave your comment via Facebook below!
advertise with us
Example: "Gen 1:1" "John 3" "Moses" "trust"
Advanced Search
Listen to Your Favorite Pastors