I Surrender All: Belief vs. Surrender
Kris Swiatocho, The Singles Network Ministries
Tuesday, July 30, 2013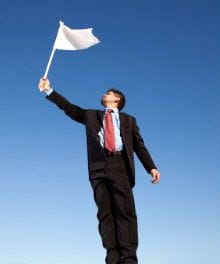 Editor's note: Today's article is the tenth in a series about "fine line" areas of our lives. Areas where we struggle to discern truth from sin. Areas we prefer not to deal with so that we can continue living on the edge, where the "fine line" is. To check out the previous article in the series, click here.
"Now you see me, now you don't!" was a recent picture of me on a white water rafting trip in Colorado. I was at the Metro Single Pastors Conference in Glen Eyrie, Colorado Springs, CO this past month. The conference leaders made the announcement about anyone wanting to go white water rafting. I had never been before so I was super excited and super scared. Because I am not the smallest person in the world, I started to imagine what would happen if I fell out of the boat. I mean, who would be able to get me back in the boat? You can't just pull the boat over and stop.
So, we made the two hour drive from Colorado Springs to Noah's Ark Adventure Park deep in the Rocky Mountains. Once we got there our instructor went over the various safety rules like "don't fall out of the boat," which the repeated over and over, "and if you do fall out, do this and don't do that." I just hoped I could remember all of it.
So the time came. I put on my life jacket and helmet and jumped into the boat. I immediately grabbed some straps and wrapped them around each wrist, holding on for dear life. We started moving, pretty easy and calm, but I knew things would get rougher as time went on. Then, out of nowhere, we hit a bump and I went two feet in the air, only to fall (not out of the boat, thank God) inside the boat, legs up to my knees tightly stuck under a section of the boat. I would need a lot of help from one of the pastors to get unstuck and return to my seat. I quickly realized I had hurt my left wrist due to having the strap wrapped around it. The instructor looked at my wrist and said, "Kris, do not do this again. You can hold the strap but do not put it around your wrist. If you fail out of the boat you could have ripped your arm off."
Needless the say, I had a hard time listening to him. I was scared. I didn't want this to happen again. I was afraid to fall back into the boat. I had a hard time trusting my instructor, surrendering my will and believing he knew what was best. I am thankful to my pastor friend Don who kept looking down to remind me to simply hold the straps. This instructor was a professional. He had been here before. He knew how to help me if I did fall. I had to take the chance and surrender so I could not only enjoy the ride but be safe. Thankfully I did finish the rapids without too much more drama or pain. Whoohoo! And now, I can mark it off my bucket list.
BELIEF:
So what is belief? As someone who has come to believe in God and his son, Christ, who died on the cross for me, I have become a Christian. You might have become a Christian as a child or an adult. You could have been raised going to church, praying at meal and bedtimes, going to VBS in the summer, and attending the occasional Bible study or small group. You might have participated in a few service projects such as a fall festival, helping the homeless, or donating clothes to raise money for a mission trip. So is believing in God enough? The devil believes, but does he surrender? I believed in my instructor leading our rafting trip. I saw him, talked to him, heard of his experience but yet, I was not ready to surrender to him my life. I was afraid…but of what?
Have something to say about this article? Leave your comment via Facebook below!
advertise with us
Example: "Gen 1:1" "John 3" "Moses" "trust"
Advanced Search
Listen to Your Favorite Pastors