Missionary Dating: On a Mission to Get Him Saved
Kris Swiatocho, The Singles Network Ministries
Wednesday, September 14, 2005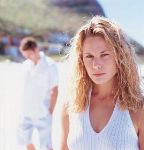 LEVEL 4
You've been dating for a couple of months, you're having fun and things aren't too serious. He told you he grew up in church but some of his behavior isn't Christ-like. You confront him about some of his choices. You don't like his answers. You know he needs to go, but you keep hoping. Finally you give him to God. God takes him out of your life.


LEVEL 5
You've been dating three to four months; it's a time in your relationship where you know if it's love or not. At the start, he told you he was in church. However, you haven't seen any real commitment or growth in Christ. You keep thinking he will change, but he doesn't. Your heart is breaking because you thought he was "the one." You finally give him to God. God takes him out of your life.
So, I guess I was a missionary dater. I seemed to be on a mission to get guys "saved," "walking with God" and "growing in their faith." So what is wrong with that? I mean, we are supposed to witness and help lead others to Christ, right?
So everywhere we go, we tell everyone about Christ. We warn them and teach them with all the wisdom God has given us, for we want to present them to God, perfect in their relationship to Christ.  Colossians 1:28

God calls each of us alone. We can not "save" anyone. We can only help lead them to Christ. Each person is responsible for his own life with Christ. Each person will go before the Father alone.

For God so loved the world that he gave his one and only Son,that whoever believes in him shall not perish but have eternal life. For God did not send his Son into the world to condemn the world, but to save the world through him. Whoever believes in him is not condemned, but whoever does not believe stands condemned already because he has not believed in the name of God's one and only Son.  John 3:6-18

God calls each of us into a relationship with Him. It is a relationship that is about our journey with Christ, our growth and our maturity.

So now we can rejoice in our wonderful new relationship with God -- all because of what our Lord Jesus Christ has done for us in making us friends of God.  Romans 5:11
Why Can't I Witness While Dating?
Here is the problem. God warns us when we join ourselves with those not walking with God, (those who don't believe, those who might even say they believe but their lives show otherwise), we take the risk that they may pull us away from God and the purpose he has for our lives. It's much easier to pull someone down from up high than it is for us to pull someone up from lower down. It is for our protection that God commands us to not be unequally yoked.
Do not be yoked together with unbelievers. For what do righteousness and wickedness have in common? Or what fellowship can light have with darkness? What harmony is there between Christ and Belial. What does a believer have in common with an unbeliever? What agreement is there between the temple of God and idols? For we are the temple of the living God. As God has said: "I will live with them and walk among them, and I will be their God, and they will be my people." "Therefore come out from them and be separate, says the Lord.  2 Corinthians 6:14-17
The goal should always be to be equally yoked. By having Christ as the center of our relationships, He becomes the model for our lives. He gives us our direction and our purpose. He teaches us to love each other unconditionally. When things go wrong, we can go to Christ together to get help. If you are the only believer in your relationship, how can you both work toward Christ's purpose in your lives?
Have something to say about this article? Leave your comment via Facebook below!
advertise with us
Example: "Gen 1:1" "John 3" "Moses" "trust"
Advanced Search
Listen to Your Favorite Pastors