Questioning God: There's No Doubt About It
Kris Swiatocho, The Singles Network Ministries
Tuesday, April 09, 2013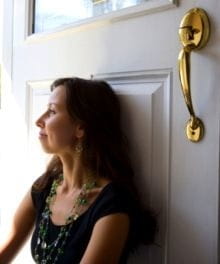 Editor's note: Today's article is the sixth in a series about "fine line" areas of our lives. Areas where we struggle to discern truth from sin. Areas we prefer not to deal with so that we can continue living on the edge, where the "fine line" is. Click here to read about Happiness vs. Joy, Judging vs. Accountability, Loneliness vs. Alone-ness, Gossip vs. Venting, and Lust vs. Love.
Part 6: A Fine Line: Doubt vs Questioning.
God, why? Why do you allow me to be in this place? Things are going so well and then bam, catastrophe. I am dating this great guy, things seem to be going well... and then he breaks up with me. Lord, why would allow this to happen? Why would you let my heart be broken like that? Also Lord, every time I save up just a bit of money, something breaks in my house. And my job. Yes Lord, it's a job to me. Is this all there is in life? Get up, go to work, come home, eat, go to bed and then do it all over again? God, are you there? Are you listening? Do you really care at all?
Does any of this sound familiar to you? Maybe your crisis of belief is more when dealing with your kids, your ex, or your extended family. Maybe you doubt God when you don't feel his presences every day. Maybe you have asked God to heal your body from cancer, diabetes, or a broken relationship. Or maybe you just simply feel alone and you aren't sure if God is out there.
Note: this article is not about whether or not you believe there is a God. It's about believing, but knowing there is a difference between doubting who God is vs. questioning what he does.
DOUBTING IS:
A feeling of uncertainty or lack of conviction. Depending on your maturity in Christ, we can often doubt God. We might question what he is doing in our lives. We see things happen around us and we can get so blinded by the enemy. We don't see how God is going to help us out of the situation. We simply settle on man's best vs. God's best. Because God doesn't work on our timetable we give up, losing our trust in him.
When we doubt, we become very self-focused. You forget how God has come through in so many other situations in your life, or how he is going to come through in the future. We doubt God when we truly do not believe who he says he is and what he is. We have to learn to trust God, to be obedient, no matter what. Please understand, if God has appointed you, he has then anointed you; he will equip you and always provide. This is God's process with his children, his heirs. Because of this truth, we have no need to ever doubt. Doubt comes from the enemy, not from God, whereas questioning can be from God.
So Christ himself gave the apostles, the prophets, the evangelists, the pastors and teachers, to equip his people for works of service, so that the body of Christ may be built up until we all reach unity in the faith and in the knowledge of the Son of God and become mature, attaining to the whole measure of the fullness of Christ (Ephesians 4:11-13).
QUESTIONING IS:
When we question God, we aren't saying that we don't believe due to our limitation, we are saying I want more information. It's OK to question God as long as our motivation is not about us. It's about God. We don't question God to say we think he is making the wrong decision. We are questioning God to help us understand. We are asking God for more details and a clearer direction.
Have something to say about this article? Leave your comment via Facebook below!
advertise with us
Example: "Gen 1:1" "John 3" "Moses" "trust"
Advanced Search
Listen to Your Favorite Pastors