Single Life: The Best and Worst Dates
Kris Swiatocho, The Singles Network Ministries
Thursday, July 05, 2012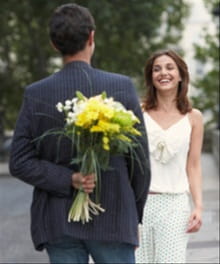 I was startled and started to jump out the open window when Jason said, "I am not doing anything. The wires are all connected. If you want heat, I have to disconnect the radio to reconnect the heater." At this point, I was ready to hitch home and take my chances with a serial killer picking me up.

I can see why God never mentions dating in the Bible. Dating can be hard. It's like "a box of chocolates," to quote Forrest Gump. "You never know what you're going to get." When I was a young adult, dating was like breathing. I dated continuously. It was easy to me. I mean, I wasn't dating to be married; I was dating to have fun. So when the occasional bad date occurred, I was like, "No problem. There will be another one around the corner." But with age and maturity in Christ, I began to realize that God wants us to "date," or I say "court," with purpose. Otherwise it should be simply building friendships. I learned the dangers of dating to only meet my needs. I learned over time the value and meaning behind dating God's way. I learned to wait on God for his best, for his purpose—even if it meant being set up by friends. And even if it meant going through some really bad dates. And even some great ones.

I wait for the Lord, my soul waits, and in his word I put my hope (Psalms 130:5).

So the survey is out. What are some of your worse and best dates? Has God been teaching you anything as a result of them? See below for some of my friends' fun and heart-filled answers.

---

CHERYL: Best Date
The best date was when I had some face-to-face time with an old friend (who I had once dated) for the last 25 years. He was in town for business. and we met at a local cafe. We shared the funniest and saddest moments in our lives as Christians—including the good, the bad and the ugly. We talked about our destiny and purpose. We shared how we can support each other in our ministries. We later went to pick strawberries. I then put him on a plane to return home. I couldn't image my life without his friendship. What a wonderful date.

Jonathan said to David, "Go in peace, for we have sworn friendship with each other in the name of the LORD, saying, 'The LORD is witness between you and me, and between your descendants and my descendants forever.'" Then David left, and Jonathan went back to the town (1 Samuel 20:42).
DIANA: Worst Date
The guy was late. He talked about himself all during dinner. When the check came, he asked me to split it. He opened no doors, made little eye contact, was shallow and keep reminding me of what a good catch he was (he came highly recommended through a mutual acquaintance). Oh, he lost his key and asked me to drive him to get his spare, and he lived with his mom! I think even the Lord laughed at this evening.

An unfriendly man pursues selfish ends; he defies all sound judgment (Proverbs 18:1).

SHARON: Best Date

It was Valentine's. I had been dating this guy for a while. He knew I loved surprises. We decided to spend the day together. Every hour that went by, he let me put my hand in a big tote bag and pull out a new gift. Some of the gifts were simple like my favorite gum or soda, while others were bigger such as a CD or DVD. But all led up to an engagement ring. Yep, that was the best date ever.

A gift opens the way for the giver and ushers him into the presence of the great (Proverbs 18:16).
Have something to say about this article? Leave your comment via Facebook below!
advertise with us
Example: "Gen 1:1" "John 3" "Moses" "trust"
Advanced Search
Listen to Your Favorite Pastors