Single Life: The Best and Worst Dates
Kris Swiatocho, The Singles Network Ministries
Thursday, July 05, 2012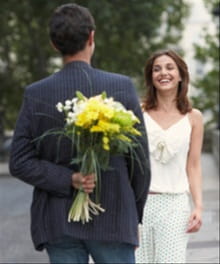 NEAL: Worst Date

I had a first date with this lady who I found interesting. I quickly decided I wanted a second date. But then it happened. She began to say,"It feels like I've known you my entire life. I feel like we can go the distance. I sense that we have a real connection. I believe I am falling in love with you." On the second date??? Needy much!? How well can a person know someone else at only the second time they see each other?

A fool's mouth is his undoing, and his lips are a snare to his soul (Proverbs 18:7).

JENNY: Worst Date

This guy took me to Subway on our first date and paid for it with a gift card. Then we went back to his place, and he ended up putting in a horror movie. All that is pretty bad, but that's not what made it the worst date. What makes it my worst date is the choice I made that night. I was 30 and had never been kissed. He asked me if he could kiss me and I said he could. Unfortunately I made the choice to make out with this guy. STUPIDEST decision EVER. My first (and so far) only kisses were wasted on a man who really didn't want to get to know me. Some people may not think that is THAT bad, but for me that was the worst date ever.

Don't let anyone look down on you because you are young, but set an example for the believers in speech, in life, in love, in faith and in purity (1 Timothy 4:12).
JEROME: Worst Date

I went to dinner with this very attractive lady (at least she had attractive Facebook pictures!). But when I met her in person, well ... it became apparent that she had had quite a few cosmetic "enhancements" in her lifetime. Overall, she seemed very athletic and fit ... but while observing her during dinner, I noticed her face was so pulled back so tight that she kept licking her lips every 3 to 4 seconds (reminded me of a lizard!) and stretching her lower jaw out. Talk about distracting! I don't remember much of the conversation. Heck, I can't even recall what I ordered for dinner.

Do you not know that your body is a temple of the Holy Spirit, who is in you, whom you have received from God? You are not your own (1 Corinthians 6:19).

TOM: Best Date

One of my favorite dates was when a good friend turned girlfriend e-mailed me some riddles on my birthday. Each riddle corresponded to a different location of our date. I had the best time trying to figure out what each meant. One location was where we would eat an appetizer, another one was our main meal, another an outdoor theatre production, and the last one was dessert and coffee and my birthday present. It was so much fun.

May those who delight in my vindication shout for joy and gladness; may they always say, "The LORD be exalted, who delights in the well-being of his servant" (Psalms 35:27).
KEISHA: Worst Date

This guy I've known for a few years (he cut my boy's hair) came to me one day and said he wanted to talk to me. We went to the park and sat and talked for a while. Everything he said was as if God had told him what to say. He had goals and dreams. He really wanted to get to know me and see where it led. No rush—nice and slow. The next three days we texted each other, and it was great. We tried to set up a date, but he never got off in time. About a week later, he asked me for $150. I told him to meet me for dinner, and we would talk about it. I already knew the answer was no, but I wanted to actually sit and talk to him again. We had only been texting and occasionally talking on the phone. We had tried other nights, but he always had an issue or was working late. Finally I make it to the restaurant, and he was already sitting down eating. No, I was not late; he got there before me though. I came in and ordered a shake and sat down. He told me he needed the money to pay the cable guy to come wire the barber shop and to mount a flat screen television. He made all kinds of promises, said he would sign a promissory note and everything. I explained to him that I passed up a $14 pair of shoes that day because I didn't need them, and that my boys might need something. He said ok and he understood. He then got up and said 'I have to go catch up with my cousin to see if he got the money.' He left me there with my shake.

A greedy man stirs up dissension, but he who trusts in the LORD will prosper (Proverbs 28:25).

Have something to say about this article? Leave your comment via Facebook below!
advertise with us
Example: "Gen 1:1" "John 3" "Moses" "trust"
Advanced Search
Listen to Your Favorite Pastors