Single Life: The Best and Worst Dates
Kris Swiatocho, The Singles Network Ministries
Thursday, July 05, 2012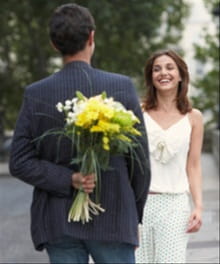 BOB: Worst Date

I had known this girl for a couple of years. I thought I knew her pretty well, so I asked her out. I took her to dinner for our first date. After a few minutes of chit chat, she asked me about Santa Claus. It was July. I was like, "What?" She wanted to know my view of Santa ... of whether I thought it was okay to celebrate Santa with kids. I explained it was okay to open gifts by way of St. Nicholas who was a real person who gave gifts secretly to poor children, as well as teaching about the celebration of giving gifts because of the Magi giving gifts to Christ. But I did not support lying to your kids about the mystical Santa. She then spent the next two hours telling how important it was for her to find someone who would tell kids about Santa Claus and the elves. I thought I was in The Twilight Zone.

The LORD detests lying lips, but he delights in men who are truthful (Proverbs 12:22).
BARBARA: Best Date

My best date was unexpected. My boyfriend and I were going on a night walk in the woods (with head lamps) which we often did. I didn't know that it was the night that the Northern Lights were visible (but he did). As always, he had his backpack and camera. He loved to take pictures everywhere we went. Anyway, he said, "This is a good spot." He open his backpack, took out the tripod, set up the camera, pulled out a blanket and we sat down. Well when the Northern Lights appeared, I was speechless. This was the best date ever ... so far that is.

He has made everything beautiful in its time. He has also set eternity in the hearts of men; yet they cannot fathom what God has done from beginning to end (Ecclesiastes 3:11).
DEBBIE: Worst Date

My ex-husband showed up on my date with my eventual new husband. Now that was awkward.

When pride comes, then comes disgrace, but with humility comes wisdom (Proverbs 11:2).

---

So, we finally arrived at Jason's favorite restaurant ... Golden Corral. I started to chuckle under my breath. We got there early to get the early bird special price. I thought, Wow, all this and cheap. How lucky can a girl get? As we walked in the door, you have to pay before you get your meal. Jason turned to me and asked me, "Hey, do you have $20 I can borrow?" Seriously dude? Seriously? I pulled a $20 out of my purse and paid for the meal. Sure, I could have told him to drop dead when he asked to borrow the money, but I didn't feel like walking home and I knew the cab ride would be more than $20. So at least this way I got to eat. After dinner Jason wanted to know if I wanted to go dancing. As I peeked in my wallet, I said, "No, can't afford it. Besides, your dogs will get awful lonely having to stay in the truck that long." I asked Jason to take me home. At my front door he attempted to steal a kiss right after he spit some tobacco juice in a Coke bottle. I quickly turned my head and said, "Thanks, it was interesting."
"Hey, I will call you and we can do it again."
Yeah, sure, in heaven dude.

So what has all this taught me? To just seek the Lord in all things. As I draw closer to God, he will not only show me who I am suppose to date, but will also prepare the path of those dates. So whether your dates lead to marriage or not, just be intentional to put Christ first.

But seek first his kingdom and his righteousness, and all these things will be given to you as well (Matthew 6:33).
Have something to say about this article? Leave your comment via Facebook below!
advertise with us
Example: "Gen 1:1" "John 3" "Moses" "trust"
Advanced Search
Listen to Your Favorite Pastors