Singles in the Church: Views from the Pulpit
Tim Laitinen, Crosswalk.com Contributing Writer
Thursday, July 01, 2010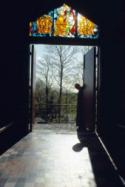 First, the old news: many evangelical churches were caught off guard by the unprecedented phenomena of delayed, deferred, or disbanded marriage in our society. And a lot of mistakes have been made in the initial wave of confusion over how to handle us.

But here's the new kicker: some churches have realized that being a faith community means de-emphasizing demographics anyway. Not just singles, but all the ways our society tells us we're different: empty nesters, families with teens, retirees, and all of the other social stratifications from our culture.

One Big Family?

After all, if the whole point of going to church is to avoid "forsaking the assembling of ourselves together," should your church leadership develop programming to augment that which divides us? Maybe you're not thrilled with the singles ministry at your church, but where does demographic-specific ministry need to end so community can begin?

Is what unites your church greater than what divides you? Granted, it's humanly impossible to ignore everything that makes us different. Yet some churches have decided to try and do singles ministry by not really doing it at all. Their objective is not to disregard their singles or any other group, but to nurture community—and discipleship—by integrating all of their members regardless of their demographic.

Singles Incorporated by Geography

For example, Pantego Bible Church, a non-denominational congregation of about 2,000 located in the suburban outskirts of Fort Worth, Texas, has developed a congregational assimilation model called "Connecting Church" which groups members regardless of marital status by their closest elementary school. That way, everybody—including singles—can be incorporated into a multi-generational community. Senior Pastor David Daniels says they've found that in terms of discipleship, their members value proximity to fellow believers more than other considerations like marital status.

Why elementary schools, instead of some other geographic factor? Daniels points out that elementary school locations have already been determined by school districts and cities using sophisticated parameters for population dynamics, so why reinvent the wheel? You don't need to be a parent to know the location of your closest elementary school. Daniels attributes their success with the Connecting Church model to buy-in from all of the church's demographics—from singles to retirees—who appreciate the philosophy behind it.

Singles Incorporated through Ministry

At Park Cities Presbyterian Church, a PCA congregation of about 5,000 located in a revitalized, central Dallas neighborhood, a different take on congregational assimilation can be seen. Their "Multiple Doors" model of ministry weaves life-stage, marital status, and gifting/skill set considerations into programming and church life. Multiple Doors differs from Connecting Church in that the connection points are ministry-centric, not geographic. However, the two share the common goal of cross-congregational integration regardless of age-and-stage distinctions.

"We all need to remember that our marital status isn't our primary identity; who are you in Christ?" explains Senior Pastor Mark Davis. "We want to see people—regardless of marital status—being discipled and discipling through the multiple doors we offer to the various ministries of our church. For example, being a member of our Chancel Choir is one of the doors through which you can connect with other people of various life experiences—and they can connect with you."

What About Singles Issues?

At first glance, it may appear as though Pantego Bible Church and Park Cities Presbyterian Church have shunted singles off to the side. If you're expecting to find a singles pastor at these two large churches—overseeing a vast subculture of singles programming—then you'll be disappointed. Both Daniels and Davis say their churches have tried the conventional singles ministry route, and they've proven to be unsustainable in the long run. And to be honest, how many singles programs have you seen either crash and burn or slide into oblivion?
Have something to say about this article? Leave your comment via Facebook below!
advertise with us
Example: "Gen 1:1" "John 3" "Moses" "trust"
Advanced Search
Listen to Your Favorite Pastors