Successful Singles Ministry: Men Growing Men
Kris Swiatocho, The Singles Network Ministries
Wednesday, July 25, 2012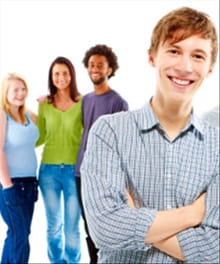 NOTE: If you have a growing singles ministry and it's made up of mostly women including the leaders and you are happy, then this article is not for you. If you are a singles ministry who desires to be more successful by having it balanced with more men, then read on to hear my suggestions.
As a leader and teacher of single adult ministry for the last 25 years, I get asked over and over again how to start a singles ministry. At least 8 out of 10 of those asking are women. Women who have a passion and heart to reach singles. Women who themselves see the need in the church. Women who often get tired of waiting for their pastors to start something. Women who are headed for failure because they lack the one crucial part that is needed for success. Besides consistent prayer, church support and the ability to build leaders, successful singles ministry, I have found, has the best success rate when co-led by male and female leaders. I mean, if you want to have a single adult women's ministry, then praise the Lord. But if you want it to be co-ed, then you must find a man to help.

"Men leaders can grow men and women, men and women leaders can grow men and women but only women leaders grow women."

Now please, don't start sending me feedback saying the opposite. I know there are some very successful ministries led by women (I have led several ones myself), but I also found with these ministries that there was a huge support system—a system with male leaders and pastors ready to help as needed. A system that most single adults viewed as a partnership of leadership versus just one lady leading things. Great women leaders know the value of placing men and women of various backgrounds and giftings under them. They know we need men to reach other men. The last church I was on staff at had a male pastor over me who would assist me in anything I needed from teaching to prayer to handling issues to attending events. People viewed him as a co-partnership of the singles ministry even though he didn't attend everything we did.

So why is this? Why can't women grow single adult ministries like a man?** Well, please know it's nothing we as women have done wrong. It's simply what God designed in us as male and female. In order for a male to grow to be the man God wants him to be, he needs to be led by another male. I am not saying women can't teach a man or offer insight or some wisdom of truth. I am just saying that our role as women should be to encourage, support, pray and honor the role God has given men directly. The same is true for women, too. Men can only disciple women to a point. There comes a time when it's not safe for a single male leader to be alone with a single lady. There are things in life that only another woman can understand. So when there are only women leading a ministry, they tend to draw only other women (and the occasional unhealthy male). Please know, as our single adults get older, we already have more women coming than men. So this makes it that much more important to have a male co-leader to help reach those men that aren't coming.

So what is the co-leader's role? Most women seem to be doing all the roles with what appears to be success. Well, not really. If you were that successful, you would have more men coming. So when you do find this man, then what is his role so that you can get a more balanced ministry?

I personally like to get men up in front as much as possible. They can open in prayer, make announcements, and so on at first with the goal to get them to facilitate a small group or other study. This can eventually lead to them teaching a small group or Sunday school class or even leading the ministry.
Have something to say about this article? Leave your comment via Facebook below!
advertise with us
Example: "Gen 1:1" "John 3" "Moses" "trust"
Advanced Search
Listen to Your Favorite Pastors