The Measure of a Man: Becoming a Disciplined Man
Gene A. Getz, Author
Wednesday, November 17, 2004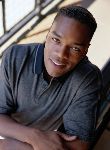 Don't misunderstand. We all need Christians we can look up to as examples. That is why Paul told the Corinthians to imitate him as he imitated Jesus Christ (see 1 Cor. 11:1). Yet we must realize that even the most mature Christians will fail, which is why we must keep our eyes focused on Jesus Christ.

The Homestretch

Paul wrote his last letter while chained in a Roman dungeon. Here, he once again used an athletic metaphor to communicate with Timothy. Paul knew he was coming into the homestretch in his Christian race:
For I am already being poured out as a drink offering, and the time of my departure has come (2 Tim. 4:6).
Not too far away from where Paul was chained stood the great Roman coliseum. Sadly, the Roman games had already deteriorated into a spectator sport that involved fights that pitted men against beasts. The blood-hungry crowds were like animals themselves.

As Paul penned this final letter, he certainly visualized in his mind what was happening in this great arena several blocks away. Using athletic language, he wrote:
I have fought the good fight, I have finished the course, I have kept the faith; in the future there is laid up for me the crown of righteousness, which the Lord, the righteous Judge, will award to me on that day; and not only to me, but also to all who have loved His appearing (vv. 7-8).
As Timothy read these words, he would clearly grasp what Paul meant. The word for "fight" (agonizomai) conjured up an image of Greek boxers who fought with ox-hide gloves interlaced with lead and iron. The battle itself was brutal, but to fail to win was even more tragic. The loser often had his eyes gouged out.

Paul's final metaphor underscores the seriousness of the Christian life. Our real competitor is Satan. We are in a fight against the forces of evil. Paul had won that fight. He had fought to the finish, and he was about to receive the victor's crown — a special reward for faithfulness and endurance. His faith had not failed him.

Points of Action

In essence, this book is designed to help each of us as Christian men to "discipline" ourselves "for the purpose of godliness" (1 Tim. 4:7). Paul's two profiles in his letters to Timothy and Titus outline for us 20 characteristics or qualities that define what this godliness actually is.

At the end of each chapter, I have outlined several points of action — steps we can take to develop these particular qualities in our lives. And now as we come to the end of this study, it is time to reflect back to see how we are doing.

Evaluate
In a moment you will evaluate the 20 characterisitcs we have studied. A seven-point evaluation scale ranging from dissatisfaction to satisfaction follows each characteristic. Please read the following directions:
Fill out the questionnaire
Read each question carefully and then circle the number that best represents where you are in your spiritual journey. Be as honest as possible, but don't be too hard on yourself. Give yourself credit where credit is due.

Get another point of view
If you are married, have your spouse fill out this questionnaire to reflect her impressions of your abilities before you discuss the questions together. Then compare her scores with your own. If there are discrepancies, discuss why.
Note: If you are single, ask a close male friend to fill out the same survey and follow the same procedures just outlined.

Analyze the results
First highlight your areas of strength. Then highlight areas where you want to grow and mature and become more disciplined.
Have something to say about this article? Leave your comment via Facebook below!
advertise with us
Example: "Gen 1:1" "John 3" "Moses" "trust"
Advanced Search
Listen to Your Favorite Pastors