The Women in Christ's Life: Anna, The Prophetess
Kris Swiatocho, The Singles Network Ministries
Wednesday, January 18, 2006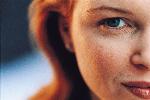 My mother is only one example of a woman who has impacted my life as a result of her relationship with Christ. Over the next several months in this series, I want to share with you about some of the other women who have impacted my life solely because of their relationship with Jesus. I believe as I share, you too will connect with them and discover for yourself how God has always had a plan for you, is working it out in your life and will never leave you.
Don't you know you're a woman – a young woman? Widowed? This place isn't for you. Go home and darn socks, take care of your family and leave the ministry stuff to us men!
Have you ever heard these words before? Have you ever felt that your life wasn't as important as others'? You didn't have the right training or knowledge that other people have? Or perhaps you didn't feel as equipped to handle the job?  Maybe your were uncertain of your purpose.
I understand because I have been there. For many years, while running a graphic design business I also volunteered in various single adult ministries. As the years passed, I became more and more involved, to the point that I had to make a decision about going into full-time ministry. I had some fears and doubts because 1) I was a women 2) I was single 3) I didn't feel adequately educated or equipped. I let my insecurities direct a lot of my choices. I was more concerned with what the world was saying versus God. God told me to go into full-time ministry. God told me that he would equip me. God told me I was equally valued in his Kingdom. That I had a purpose and a plan. Now I just had to believe him.
For I know the plans I have for you," declares the LORD, "plans to prosper you and not to harm you, plans to give you hope and a future. Then you will call upon me and come and pray to me, and I will listen to you.
— Jeremiah 29:11-12
Anna:  A Woman With Purpose
Anna, a prophet, was also there in the Temple. She was the daughter of Phanuel, of the tribe of Asher, and was very old. She was a widow, for her husband had died when they had been married only seven years.
She was now eighty-four years old. She never left the Temple but stayed there day and night, worshiping God with fasting and prayer. She came along just as Simeon was talking with Mary and Joseph, and she began praising God. She talked about Jesus to everyone who had been waiting for the promised King to come and deliver Jerusalem.
— Luke 2:36-38
Anna was not like most women of her time. She chose a different path.
More than likely, after her husbands death, Anna would have been encouraged to get married again and have children. Anna, instead, chose to stay single. She chose to share her faith to as many people as she could. She chose to serve the Lord. She chose to fast and pray, worshiping the Lord day and night. She chose to tell them the news of the Savior that was coming, no matter how long it might be before he came. She knew her purpose and she didn't let anyone's opinions or comments keep her from it. Anna's choice would not only affect her life in an abundant way, but also the lives of others ever since.
What I've Learned From Anna
I would have love to have been a fly on the wall to watch Anna through her 84 years.  How she might have shared her pain of losing her husband, being single, and relying on others financially. To also see her share her joy, hope and security in Jesus Christ.
1. She didn't give up.
There have been times in my ministry that I have wanted to give up. Being on the road can get hard. You miss your friends, your church and your community. Sometimes churches cancel, leaving you without finances and resources. Sometimes you get lonely, sick and exhausted. But like Anna, I have also experienced many positives that far outweigh the negatives. I have met so many people who have encouraged me. I have also witnessed many come to Christ and recommit to him. Just think of Anna and how for at least 60 or more years she was able to share her faith with so many  people. God's timing is truly perfect. Think about it. If Christ had come the first day she was widowed, how many people would have never heard the message of salvation. We must never give up.
Have something to say about this article? Leave your comment via Facebook below!
advertise with us
Example: "Gen 1:1" "John 3" "Moses" "trust"
Advanced Search
Listen to Your Favorite Pastors