The Women in Christ's Life: Martha ... Mary's Sister
Kris Swiatocho, The Singles Network Ministries
Wednesday, June 14, 2006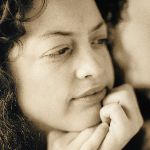 My mother is only one example of a woman who has impacted my life as a result of her relationship with Christ. Over the next several months in this series, I want to share with you about some of the other women who have impacted my life solely because of their relationship with Jesus. I believe as I share, you, too, will connect with them and discover for yourself how God has always had a plan for you, is working it out in your life and will never leave you.
Martha ... Mary's Sister
As Jesus and his disciples were on their way, he came to a village where a woman named Martha opened her home to him. She had a sister called Mary, who sat at the Lord's feet listening to what he said. But Martha was distracted by all the preparations that had to be made. She came to him and asked, "Lord, don't you care that my sister has left me to do the work by myself? Tell her to help me!" "Martha, Martha," the Lord answered, "you are worried and upset about many things, but only one thing is needed. Mary has chosen what is better, and it will not be taken away from her."
— Luke 10:38043
So what is the big deal? What is wrong with wanting to make things nice? What is wrong with wanting to make a good meal, have a table set, and a clean house? These things don't happen by themselves. Someone has to do them. Why all the fuss? Can't I talk to Jesus later? Oh and by the way, I need some help in here!
I don't know about you but I struggle sometimes with having to choose to either sit at Jesus' feet or do His work. At the time, both seem to be just as important. Both seem to be good. Personally, for most of my life I have been a Martha. I have to work on it every day to spend time with God; everything becomes competition with sitting at Jesus' feet. Now I am not talking about choosing TV over God (although sometimes when I need to zone out and relax, it wins), or food (yes, this has won out many, many times ... you can look at my picture to see how many times) or shopping (thank God this hasn't been a struggle in a long time – if you don't have it, you can't spend it) or cutting my toenails (I am sure many people who see my feet while wearing sandals are thankful).
It's easy to choose God over those things. What I struggle with is choosing to sit at Jesus' feet when I believe with my whole heart that the thing I am doing is also as important and is a way of learning from God. A way of fulfilling my call as a Christian, as a woman. I struggle with allowing phone calls by people in need to stop me in my quiet time with God, or an urgent email from a church that is having ministry problems, or a family member who needs me to come now and help them out, or even writing this article.
I believe Martha struggled in the same way. Not that sitting at Jesus' feet isn't important, but following through with other commitments is also important. And when her sister didn't seem to feel the same way Martha did, she got upset. I can relate as I have struggled over and over with others who don't seem to care as much about the "work" of the Lord.

I know you know what I mean. Haven't you ever been on a church committee, and no one shows up? Or you have started a Bible study and everyone seems to always be late? But what Martha misses is that without sitting at Jesus' feet, then nothing else matters. It is the sitting at his feet and learning about him that gives us our direction. It gives us our priorities. It gives us our peace. I believe Mary will do her fare share of the work when it is needed. Not because Martha complains or fusses at her, but because she will get her purpose and direction by God first which will lead to what work she needs to do. Wouldn't you want the people who serve with you or under you to do so with direction by God? People with direction commit. People with direction follow-through. People with direction are faithful.
Have something to say about this article? Leave your comment via Facebook below!
advertise with us
Example: "Gen 1:1" "John 3" "Moses" "trust"
Advanced Search
Listen to Your Favorite Pastors