The Women in Christ's Life: Martha ... Mary's Sister
Kris Swiatocho, The Singles Network Ministries
Wednesday, June 14, 2006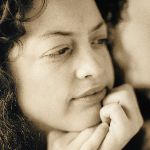 I have heard many sermons and Bible studies on Martha. Martha is painted into being this controlling, complaining, workaholic, obsessed sister who isn't interested in listening to Jesus. And Mary is described as the only one who got it. Personally, I believe Martha did love Jesus and did value his presence, but due to her life situation felt necessary to take care of her home first. She simply was doing what was good versus what was best. I love Martha because I see some of myself in her. Did she make the wrong choice to not just sit at Jesus' feet? Perhaps, but I believe it wasn't out of being a control freak but out of responsibility. I believe as she would grow in the Lord, she would learn that it was OK to leave things to sit at Jesus' feet. This is what being a disciple of Christ is all about – learning to sit at his feet each day.
What I Have Learned From Martha:
1. Doing good is not enough, we must do what is best.
Jesus told Martha that she worries about many things, but that Mary had chosen what was better and that it could not be taken from her. God must come first in all things. We must be willing to sit at his feet each day to get direction so that we know what is best versus what is just good. And when we sit at his feet, what we learn can not be taken from us.
"Martha, Martha," the Lord answered, "you are worried and upset about many things, but only one thing is needed. Mary has chosen what is better, and it will not be taken away from her."
— Luke 10:41-42
2. Even in the midst of doing God's work, life can distract us to the point of affecting our relationship with God.
The Enemy's goal is to distract us, to steal, kill and destroy us. He will use whatever he can from something simple to something extreme. With Martha he distracted her with things she handled each day. Things that she was used to doing. Distractions can easily pile up to the point that we aren't able to hear God, much less know his peace and direction for our lives.
The thief comes only to steal and kill and destroy; I have come that they may have life, and have it to the full.
— John 10:10
3. What seems right to me, may not be.
Martha expected Jesus to do what she wanted. She felt that her sister was getting out of her responsibility of getting dinner ready. She confidently expected Jesus to agree with her. Almost in such as way as if Jesus was her parent and was settling a dispute. She even tries to manipulate and control Jesus by asking him if he cares that she is having to do all the work. We can't assume that even though we may passionately believe in what we want or do, that it is the best. I feel confident about my stand regarding my family. I have felt in the past that my brothers should feel just as I do regarding our grandmother who was in a nursing home. However, as I began to pray about things and giving it to God, I slowly began to realize that they saw the situation differently. That my opinion and the desire to control the situation may not be the best way. That perhaps they had a better idea of how to handle things.
Those who live according to the sinful nature have their minds set on what that nature desires; but those who live in accordance with the Spirit have their minds set on what the Spirit desires. The mind of sinful man is death, but the mind controlled by the Spirit is life and peace; the sinful mind is hostile to God It does not submit to God's law, nor can it do so.
— Romans 8:5-7
4. You can be friends with Jesus ... a man and a Savior.
Martha taught me that she was Jesus' friend. She welcomed him into her home, fed him and felt comfortable asking for him to tell her sister to help her. You wouldn't do this with a stranger. Sometimes I think we forget that Jesus wants to be our friend, too. He wants us to talk with him about all the things in our lives – from where to find a good parking spot to how to witness to being thankful to our cry for help. He wants our relationship to be real. Just start talking to him today.
Have something to say about this article? Leave your comment via Facebook below!
advertise with us
Example: "Gen 1:1" "John 3" "Moses" "trust"
Advanced Search
Listen to Your Favorite Pastors