The Women in Christ's Life: The Woman at the Well
Kris Swiatocho, The Singles Network Ministries
Friday, April 21, 2006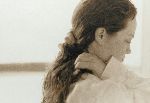 My mother is only one example of a woman who has impacted my life as a result of her relationship with Christ. Over the next several months in this series, I want to share with you about some of the other women who have impacted my life solely because of their relationship with Jesus. I believe as I share, you too will connect with them and discover for yourself how God has always had a plan for you, is working it out in your life and will never leave you.
The Woman at the Well 
Ministering where you are until Jesus moves you somewhere else
Ring, ring, ring! The phone never seems to stop ringing. That is what is sounds like at my parents' home. A few years ago my dad was diagnosed with Alzheimer's – a disease that is no stranger to anyone today, a disease that many of you have experienced with either a friend, a parent or a grandparent, a disease that slowly robs you of who you are, what you can do and who you know. Every time I talk to my dad on the phone or visit him, I can see that he has lost a little more of who he was.
Ring, ring, ring, there goes that phone again. Why does the phone ring so much at my parents'? You see, prior to my dad's illness my mom was very involved in church, in her community and with her family. I admired how my mom went from being on a prayer intercessory team for a new community Bible study to one of its leaders. How by leading the kitchen committee she was able to put on so many events, feed the shut-ins, the elderly and the sick, while still being home to cook three meals a day for her family.
One of my mom's favorite things to do is fish on the pier. Not only because fishing is fun but because she gets to evangelize up and down the pier. Through her fishing she would find common ground. However, when dad got sick, things changed. As the years have passed, the community Bible study has been let go, the kitchen committee has been given over to someone else and the fishing only done when dad feels up to it. So like most people I have found, they would have said, "well, this is my situation and so I will get back to serving, to teaching to evangelizing when things are better." But did God say to stop just because our situation has changed or isn't desirable? Well I have a found another woman whose situation didn't appear to be one in which she could serve, teach or evangelize. I am talking about the woman at the well, the Samaritan.
A lot of us know the story. We have either read it many times or have heard countless sermons. Yes, the Samaritan woman had a past. We know from Scripture that she had been married five times and was living with another man. We also know she was getting water in the middle of the day.  We also know that Jesus was at the well when she walked up. He asked her for a drink of water. She was surprised because she knew he was a Jew and Jews and Samaritans did not mix. He also told her about the living water, the kind that will cause you to never thirst again. The Samaritan wanted this water. She would go on to understand that HE WAS THE LIVING WATER. He would tell her everything about herself. She would leave her jug of water (something you would not do in those times because of its value) and run to tell the others about Jesus. The people would come and hear for themselves what this woman had said. Not that they didn't believe her but because they also were waiting for the Savior to come.
God loves the woman at the well, the Samaritan woman. Jesus met her where she was, in her sin, in her problems, in her defeat and filled her. He gave her promise, love, care, value and encouragement. Despite her past, her nationality and her sex, her singleness, he risked being seen with her. He never told her that her situation had to change. But you and I both know that once she received the living water, it would. That as a result of her salvation, she would leave probably the only valuable thing she owned, her water jug.
Have something to say about this article? Leave your comment via Facebook below!
advertise with us
Example: "Gen 1:1" "John 3" "Moses" "trust"
Advanced Search
Listen to Your Favorite Pastors