The Women in Christ's Life: The Woman Who Bled
Kris Swiatocho, The Singles Network Ministries
Thursday, August 03, 2006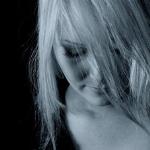 In God, whose word I praise, in the LORD, whose word I praise-in God I trust; I will not be afraid. What can man do to me? I am under vows to you, O God;  I will present my thank offerings to you.
— Psalm 56:10-12
3.  Suffering produces perseverance.
This woman persevered to find a cure, and she never gave up. Doctors during biblical times are not like doctors today. She would not find a cure because at that time there wasn't one for her illness. Her cure would have to come from God. This woman, through her suffering, would manage to weave through this crowd and touch Jesus' clothes. I know her body must have been in pain, perhaps even bleeding at this moment, but it didn't matter. She kept moving forward. She was determined to touch Jesus, to be healed.
If we are distressed, it is for your comfort and salvation; if we are comforted, it is for your comfort, which produces in you patient endurance of the same sufferings we suffer.
— 2 Corinthians 1:6

Not only so, but we also rejoice in our sufferings, because we know that suffering produces perseverance; perseverance, character; and character, hope.
— Romans 5:3-4
4. Loneliness can lead to hope.
Because we know that this kind of illness would be considered "unclean", I believe this woman spent a lot of time alone, resulting in loneliness. Her illness kept her from being able to do a lot of things in her home, and in her community. She not only was bleeding but was also in physical pain. So many of you are suffering with illnesses that keep you from enjoying life, from having friends, from going to church and work. One day you get up feeling great and another you're in bed. I am sure this woman felt the same. However, her loneliness led to her hope in believing she would one day not suffer anymore, and she would be able to rejoin society. And she did.
Immediately her bleeding stopped and she felt in her body that she was freed from her suffering.
— Mark 5:29
5. Don't ever give up on God.
This woman taught me more than perseverance. She taught me that I should never give up on God. I should never give up on what he wants to show me. God is still at work not only in my life but in the lives of my friends, my family and even in finding the "one".
And we also thank God continually because, when you received the word of God, which you heard from us, you accepted it not as the word of men, but as it actually is, the word of God, which is at work in you who believe.
— 1 Thessalonians 2:13
6. I learned about humility.
Can you even imagine her unbelievable humility at this point? After 12 long, hard, emotional and exasperating years of suffering, in one second she had been healed not only from bleeding but from the physical pain. Are there times in your life that God has done something miraculous? Every day I am saved from near car accidents from being on my cell phone or reaching for something. Every day I am saved from infectious germs from touching grocery carts or eating at restaurants due to God's design of my body to fight infection. Every day, God gives me his word to renew me in his strength. Every day is a new day to experience God and his love. Do you fall at his feet to thank him? Or do you take each day for granted?
But Jesus kept looking around to see who had done it. Then the woman, knowing what had happened to her, came and fell at his feet and, trembling with fear, told him the whole truth.
— Mark 5:32

When pride comes, then comes disgrace,  but with humility comes wisdom.
— Proverbs 11:2
Have something to say about this article? Leave your comment via Facebook below!
advertise with us
Example: "Gen 1:1" "John 3" "Moses" "trust"
Advanced Search
Listen to Your Favorite Pastors