The Swaying High-Rise: A First-Hand Account of Japan's Earthquake
Trevor Freeze, Billy Graham Evangelistic Assocation
Tuesday, March 15, 2011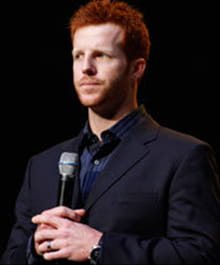 "When faced with life's uncertainties there is only one place to rest and that is in the love and grace of our Lord and Savior.
'God Has a Plan'
Murton said he's not about to leave Japan, especially considering all the events that God had orchestrated in his life over the past year and a half.
"In my own strength and mind, the easiest thing to do would be to pack up and go home," Murton said. "However, I know God has a plan and a reason and only through Him can we remain strong."
Murton will quickly deflect all the credit to the Lord Almighty. Which is exactly what he did moments after his record single, as the Osaka crowd cheered wildly, with a standing ovation.
It was a simple pointed to the sky. A humble gesture, giving thanks to God for designing a plan he could have never fathomed.
His Colorado Rockies' contract bought out by Hanshin Tigers. His family uprooted to Japan with very little notice. The once-promising Chicago Cubs prospect now playing halfway across the globe.
How did any of this make sense?
But as he rounded first base with his 211th hit of the season, a packed Jingu Stadium in Tokyo, Murton simply wanted to give the Lord Almighty thanks.
"It was just recognition of who allowed that to happen, which was a special moment," said Murton, who finished with 214 hits and a .349 batting average. "And even from that pointing up, God opened up so many doors."
And one of those doors led directly into the Osaka-Jo Hall, where he shared his story at the Kansai Franklin Graham Festival on Oct. 22-24 weekend.
First, breaking a historical league-wide record. And now, sharing his faith in front of thousands in Japan? Murton could not have dreamed up a script like this.
"That was an unbelievable experience," Murton said. "There was a moment I remember standing up there on the stage, giving my testimony in front of, you know, eight-to-ten thousand Japanese people and having to pinch myself."
'I Didn't Want Any Part of It'
And to think, Murton hesitated to answer God's call to east Asia.
"At first I said I didn't want any part of it," he said. "My wife Stefani, she knew way before I did that this is where we were supposed to be."
Looking back, Stefani can see how God's plan was perfect for the Murtons, including their son Micah (now 22 months) and new daughter Macie, who was born last April in Osaka.
"I just think that everything that happened while we were there made it so apparent that that was where God wanted us to be," Stefani said. "We had an English speaking doctor. They took such good care of Macie on top of taking care of me."
Still, the journey to Japan was quite a culture shock. Growing up in a Christian home in Fort Lauderdale, Murton was saved at an early age, moving to Georgia at 14, before playing baseball at Georgia Tech. His success on the field created a natural platform to proclaim the Gospel.
But nothing could prepare him for the opportunity at Osaka-Jo Hall. Sure, he's played baseball in front of larger crowds and screaming fans. But on an eternal scale, this was bigger. Much bigger.
On that night it was just him, a microphone, a translator, thousands of eager Japanese hearts.
And, of course, the Holy Spirit working in the midst of it all.
"While I'd shared my testimony before and done FCA (Fellowship of Christian Athlete) groups and stuff, I was never in a position to do something to that magnitude," Murton said. "And so just to see how God had worked – feeling so ill-equipped – to give you the peace and the confidence to try to get up there and do it.
"He will equip you in those moments. Those moments you feel inadequate, He will walk beside you and He did that and He showed up in a real way for me that weekend."
Murton continues to pray for the people of Japan and plans to return to the Hanshin Tigers for the 2011 season, looking forward to the great things God may have in store for him.
"I'm very excited about this year. I know Christ has us there for another year. We're hoping for more and more opportunity to share Christ. I'm hoping that Franklin Graham Festival was the beginning of something that's going to really start to transform that country."
Copyright 2011 Billy Graham Evangelistic Assocation. Used by permission.
Please join us on Facebook in prayer for Japan.
Visit our Crosswalk Forums thread on the disaster in Japan.
Donate to Samaritan's Purse Japan Relief Fund
Recently on Disaster in Japan
Have something to say about this article? Leave your comment via Facebook below!
advertise with us
Example: "Gen 1:1" "John 3" "Moses" "trust"
Advanced Search
Listen to Your Favorite Pastors