The Day Satan Called
Bill Scott
Monday, October 17, 2011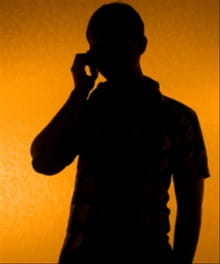 Editor's Note: The following is an excerpt from Bill Scott's book, The Day Satan Called: A True Encounter with Demon Possession and Exorcism (FaithWords, 2011). As such, this article will not here complete the tale Bill has to tell. We appreciate your understanding that it's not in FaithWords' or any publisher's best interests to allow us to run the book in its entirety. Click on any of the links to purchase a copy from Christianbook.com.
Introduction
I'm Not Really Crazy
For we wrestle not against flesh and blood, but against principalities, against powers, against the rulers of the darkness of this age, against spiritual hosts of wickedness in heavenly places.
Ephesians 6:12
I never planned—or even wanted—to write this book.
It's been years since this event happened—an event that covered eighteen excruciating months of my life. I've only shared it with a few trusted individuals over the years. Frankly, I have been concerned that if people who don't know me well heard me tell this story they would think I was crazy or mentally unstable. But my reluctance to share what happened to me was not just based on a fear that I wouldn't be believed.
During this event there were death threats that both the police and I took seriously. For eighteen months my home was no longer a sanctuary. I lived in constant fear but especially dreaded nightfall each and every day. Human and inhuman voices. Noises. Threats. Cursing. Blasphemies. Objects moving. Doors opening and closing. Strange calls and visitors at work and home. The experience was simply too surreal and too painful to want to relive. For two decades I have felt it was best not to talk about my experiences to anyone outside of a small circle of friends.
You would have to be crazy to try and tell others about something this bizarre—and I'm not crazy.
I understand if you are skeptical already. You might be thinking it's convenient that I shared my story with only a few, select individuals—and then waited more than twenty years to put it in book form. True, I can't prove the details of my ordeal other than through the testimony of other people involved in the events at the time, but what I'm about to share with you really happened. It is my personal testimony, not an apologetic to prove the existence of the spiritual world, including demons.
For any doubters, I think I understand where you are coming from. As I relived those tumultuous moments through writing this book I, too, found it very hard to believe that these things really happened—and I was there.
A lot has to do with my upbringing. I grew up in a small, very conservative, Bible-believing and Bible-teaching church. I was taught to know and love God's Word. But there were two things we really didn't talk about much: the power of the Holy Spirit and demons. In other words, we didn't talk about the spirit world; at least not in the modern-day world. The only time I remember hearing about demons from the pulpit was when a missionary from Africa came to speak at our small church. It's not that my pastor and Sunday school teachers didn't believe in demons, it just wasn't their teaching emphasis. What the missionary shared was fine with them, but probably because the demons were in a far off and exotic land and not the USA; certainly not the town I grew up in. The spirit world was simply not part of our world. So I never met anyone who had encountered demons. I never heard anyone speak of spiritual warfare. Your upbringing might be quite different than mine, but there is a good chance you were raised the same way on this point of ignoring the spirit world.
Have something to say about this article? Leave your comment via Facebook below!
advertise with us
Example: "Gen 1:1" "John 3" "Moses" "trust"
Advanced Search
Listen to Your Favorite Pastors