Social Justice through Storytelling in Les Misérables
Debbie Holloway, Assistant Editor, Crosswalk.com
Friday, December 21, 2012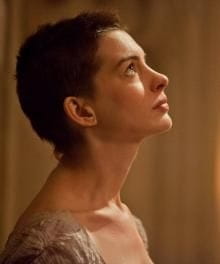 "Because of the oppression of the weak and the groaning of the needy, I will now arise," says the LORD. "Then I will protect them from those who malign them" (Psalms 12:5).
Forgetting and neglecting the cause of the weak and the poor is a serious offense in the eyes of God.
God's heart for the downtrodden is displayed in full force through Victor Hugo's classic novel Les Misérables, which has been adapted for the stage and numerous films. Now a new cast and crew of all-star players carries on the proverbial torch to remind audiences everywhere that suffering and injustice still exist just as much as when Hugo penned the novel in 1862.
Many of the stories contained in Les Misérables deal plainly with social injustice, but none so heartbreakingly as Fantine's story. Fantine is portrayed by Anne Hathaway, a current Hollywood darling with the experience of some hefty roles under her belt. However, tackling a character such as Fantine has been a new and difficult journey for her.
"There's no way that I could relate to what my character's going through," admits the actress. "I have a very successful, happy life."
Fantine is in many ways a poster-child for Les Misérables, which translated literally from its original French means "The Miserable Ones." At the beginning of the film Fantine is a young woman working in a factory who sends off every paycheck to the money-grubbing caretakers who provide for her small daughter. When the factory foreman discovers Fantine has an illegitimate child, he dismisses her and Fantine is reduced to living on the street with no means of income.
We watch in horror as Fantine spirals downward, one scenario at a time parting with everything she has in the world, just so she can scrape together money to send toward her daughter's living expenses. She is eventually reduced to prostitution, at the end of her resources and terrified to doom her daughter to the same fate through negligence.
This journey is one of the most devastating stories in Les Misérables, a film which takes a long and difficult look at the life of the poor and broken. In the words of director Tom Hooper, "Les Misérables is the great advocate of the dispossessed."
But before committing to the project, Hooper had to ponder whether today's day and age was the right time to produce this particular film. "In the end," he came to realize, "there are so many people hurting around the world…there's so much anger against the system." And what does Les Misérables offer as a counter to this hurt, to this anger? According to Hooper, the film's message is that, "the way to collective action is through compassion to the people closest to you. It starts with love."
Hathaway also did a lot of personal reflecting, and research, to prepare for filming Les Misérables. In many ways, Fantine represents the millions of women around the world coerced into sexual slavery. "I came to the realization that I had been thinking about Fantine as someone who lived in the past, but she doesn't," Hathaway explained at a press conference in New York City. "She's living in New York City right now; she's probably less than a block away." This sobering realization of the suffering represented in Les Misérables makes the film even more striking.
Recently on Les Misérables
Have something to say about this article? Leave your comment via Facebook below!
advertise with us
Example: "Gen 1:1" "John 3" "Moses" "trust"
Advanced Search
Listen to Your Favorite Pastors