10 Reasons Why It's Wrong to Take the Life of Unborn Children
John Piper, Desiring God
Wednesday, January 18, 2012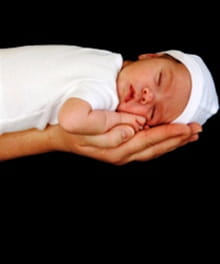 6. It is a sin of presumption to justify abortion by taking comfort in the fact that all these little children will go to heaven or even be given full adult life in the resurrection.
This is a wonderful hope when the heart is broken with penitence and seeking forgiveness. But it is evil to justify killing by the happy outcome of eternity for the one killed. This same justification could be used to justify killing one-year olds, or any heaven-bound believer for that matter. The Bible asks the question: "Shall we sin that grace may abound?" (Romans 6:1) And: "Shall we do evil that good may come?" (Romans 3:8). In both cases the answer is a resounding NO. It is presumption to step into God's place and try to make the assignments to heaven or to hell. Our duty is to obey God, not to play God.
7. The Bible commands us to rescue our neighbor who is being unjustly led away to death.
"Rescue those who are being taken away to death; hold back those who are stumbling to the slaughter. If you say, 'We did not know this,' does not He who weighs the heart perceive it? Does not He who keeps watch over your soul know it, and will He not requite man according to his work?"
There is no significant scientific, medical, social, moral or religious reason for putting the unborn in a class where this text does not apply to them. It is disobedience to this text to abort unborn children.
8. Aborting unborn children falls under Jesus' rebuke of those who spurned children as inconvenient and unworthy of the Savior's attention.
"Now they were bringing even infants to him that he might touch them; and when the disciples saw it, they rebuked them. But Jesus called them to him, saying, 'Let the children come to me, and do not hinder them; for to such belongs the kingdom of God'" (Luke 18:15-16). The word for "infant" in Luke 18:15 is the same word Luke uses for the unborn infant in Elizabeth's womb in Luke 1:41,44.
"And Jesus took a child, and put him in the midst of them; and taking him in his arms, he said to them, 'Whoever receives one such child in my name receives me; and whoever receives me, receives not me but him who sent me'" (Mark 9:36-37).
9. It is the right of God the Maker to give and to take human life. It is not our individual right to make this choice.
When Job heard that his children had all been killed in a collapsing house, he bowed to worship the Lord and said, "Naked I came from my mother's womb, and naked shall I return; the Lord gave, and the Lord has taken away; blessed be the name of the Lord" (Job 1:21).
When Job spoke of coming from his mother's womb, he said, "The Lord gave." And when Job spoke of dying, he said, "The Lord has taken away." Birth and death are the prerogatives of God. He is Giver and Taker in this awesome affair of life. We have no right to make individual choices about this matter. Our duty is to care for what He gives and use it to His glory.
10. Finally, saving faith in Jesus Christ brings forgiveness of sins and cleansing of conscience and help through life and hope for eternity. Surrounded by such omnipotent love, every follower of Jesus is free from the greed and fear that might lure a person to forsake these truths in order to gain money or avoid reproach.
* * * * * *
My prayer is that anyone involved in the practice of abortion would consider these things very seriously and pray for the faith and the courage to stand for life and love in Jesus Christ. We at Bethlehem Baptist Church are ready to talk further about these matters and pray with you and for you as you seek the strength to follow the Jesus.
By John Piper. © Desiring God. Website: www.desiringGod.org. Email: mail@desiringGod.org. Toll Free: 1.888.346.4700.

Listen to John Piper and Desiring God Online Broadcasts at OnePlace.com.
Recently on Sanctity of Life
Have something to say about this article? Leave your comment via Facebook below!
advertise with us
Example: "Gen 1:1" "John 3" "Moses" "trust"
Advanced Search
Listen to Your Favorite Pastors