Evangelism and Proclaiming The Gospel of Jesus Christ In A Fallen World
Kelly Malone , International Mission Board (SBC) Missionary
Friday, September 07, 2007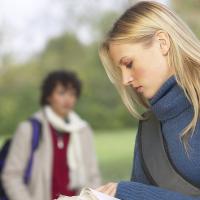 The third principle of sword-bearing is that we are to have the purpose of bringing men and women under the authority of Jesus Christ. In 2 Corinthians 10, Paul writes that the spiritual battle that we are engaged in is something very different from the warfare that human beings wage against one another (2 Cor. 10:3). For one thing, "the weapons we fight with are not the weapons of the world" (2 Cor. 10:4). When we think of warfare our immediate thought is that of a conflict waged with guns, missiles, and bombs. Yet we also realize that in our modern world a conflict between nations is just as likely to be political and economic as military. On both a national and a personal level the primary weapons are not those that shoot bullets. They are, rather, "human ingenuity, rhetoric, showmanship, a certain splashiness and forwardness in spiritual pretensions, charm, powerful personal charisma" (Carson 1984, 46).
The most recent war in Iraq is a case in point. While battle in Baghdad was waged with guns, tanks, airplanes and missiles, a warfare of words was waged on the airwaves, in the newspapers, and in the hearts of people around the world in cities as diverse as Atlanta, Cairo, and Tokyo. In Tokyo we have often found the perception of the struggle in Iraq hinders reception to the gospel among the Japanese.
The weapons that we use in spiritual warfare have "divine power to demolish strongholds" (2 Cor. 10:4). Since the warfare that we are engaged in is spiritual, we must think about the strongholds that we are equipped to demolish spiritually as well. According to verse 5, "We demolish arguments and every pretension that sets itself up against the knowledge of God, and we take captive every thought to make it obedient to Christ." The primary location of spiritual warfare is not external, but internal, in the hearts and minds of individuals. According to D. A. Carson, our spiritual "weapons destroy the way people think, demolish their sinful thought patterns, the mental structures by which they live their lives in rebellion against God" (1984, 47). There is a fierce hand-to-hand conflict being waged for belief and adherence. People will either kneel before King Jesus in obedience and call him Lord, or they will continue to let Satan have carte blanche in their lives as he leads them down the way that ends in their destruction.
The substitutes for God's truth that Satan uses to hold people in spiritual bondage will vary from people to people and from person to person. In Japan, for example, religion, family, national identity, personal ambition, and self-indulgent immorality are all sources of spiritual bondage. The only way that we can "demolish" these spiritual strongholds is to speak the truth of Jesus Christ in the power of the Spirit. Men and women reject God and his Word because they, like Satan before them, want to exalt themselves. What actually holds a given Japanese person in bondage will vary with the individual. In order to deal with this situation, I must know those that I am trying to share the gospel with. I must know their personal issues and concerns, their questions, and their needs. Only then can I adequately explain how Jesus is more than adequate to meet all of their needs. Only then can I communicate clearly that Jesus has the power to transform their lives.
The fourth and final principle for bearing the Spirit's sword is that we should have confidence because victory is certain. This does not mean that those who bear the gospel will always live without any suffering or difficulty. In fact, the opposite is true. Since we are involved in a spiritual conflict, hardship and persecution are necessary bi-products of the proclamation of the gospel. What I am saying is that no matter how much we must struggle to live in a fallen world and to get the gospel out, the final victory of the Word of God is certain.
Have something to say about this article? Leave your comment via Facebook below!
advertise with us
Example: "Gen 1:1" "John 3" "Moses" "trust"
Advanced Search
Listen to Your Favorite Pastors