Mike Huckabee to Appear in God's Not Dead 2
Ryan Duncan

Crosswalk.com blogspot for ChristianMovieReviews.com and Ryan Duncan, Crosswalk.com Entertainment and Culture editor

2015

Nov 30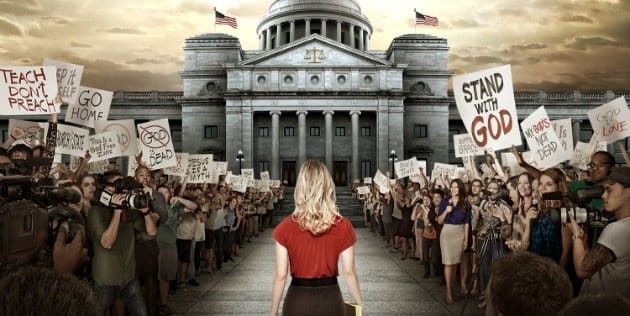 It looks like the sequel to the 2014 Christian blockbuster will be featuring some familiar faces. A recent press release from Pure Flix and Grace Hill Media has revealed that Christian commentator Mike Huckabee will be making a cameo appearance in God's Not Dead 2. The former Arkansas governor will be playing himself in what he described as a "true honor". The memo reads,
"Pure Flix announced today that GOP presidential candidate Mike Huckabee will make an appearance in GOD'S NOT DEAD 2, the follow-up to the most successful independent faith film of 2014, coming to theaters nationwide on April 1, 2016."
"The former Arkansas governor will play himself in the film, which once again takes place in the hometown of Hadleigh University, setting for the first movie. This time the action shifts from a college campus to a courtroom, where a Christian teacher (Melissa Joan Hart) is dragged before a judge for answering a student's question about the similarities of Jesus' teachings to those of Martin Luther King and Mahatma Gandhi. Much more than her career is on the line as a civil-liberties group with an anti-God agenda looks to make an example of her that will remove God from the public square for good."
When asked about the film, Huckabee took a moment to expound upon Christian concerns for religious liberty stating,
"'The breakout film GOD'S NOT DEAD struck a nerve with America depicting how believers are marginalized in the classroom, and 'God's Not Dead 2' is virtually ripped from the day's headlines by showing how people of faith are now being criminalized and taken to the courtroom,' he said. 'A few years ago, such a film would be fiction that could someday be true; now, GOD'S NOT DEAD 2 is the story that has become true for believers across the nation. GOD'S NOT DEAD 2 is a wake-up call.'"
God's Not Dead 2 stars Jesse Metcalfe, Ray Wise, and David A.R. White (Faith of Our Fathers) alongside Melissa Joan Hart. Click here to check out the film's official trailer!
*Published 11/30/2015
---