Cultivating a thankful, praise-filled heart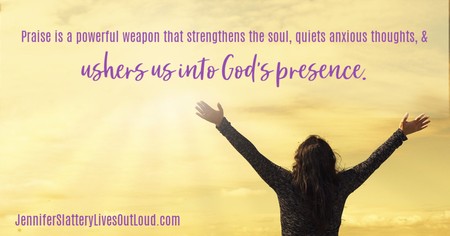 Sometimes, I get so caught up in rushing about, I forget to pause and say thanks. But when I do, peace sweeps in as my mind shifts off of all that could or maybe has gone wrong to all that has gone right. To all the abundant blessings God provides each day, and those are numerous. If I were to contemplate my relationship with Christ and all the spiritual blessings He's provided, that alone would give me ample reason for praise.
I've been adopted into an eternal, inter-connected family.
I've been redeemed.
I've been washed clean–given a new slate and, each day, a chance to begin again.
I've been lavished by grace and empowered by the Holy Spirit.
But most importantly, I've been given the gift of intimacy with my Savior.
Pause this afternoon or perhaps this evening to contemplate all the gifts God has given you in His Son. Write Him a letter thanking for Him each one, and see if that doesn't elevate your heart to praise and connect you, on a deeper level, with the Giver of all that is right and true and beautiful and eternal.
Connect with Jennifer Slattery on her personal website, Facebook, Instagram, and Twitter, join her private Faith Over Fear Facebook Group, and watch for her upcoming podcast and Bible reading plan, Faith Over Fear.
Jennifer also invites you to sign up for her free quarterly newsletter. You can read her most recent edition HERE.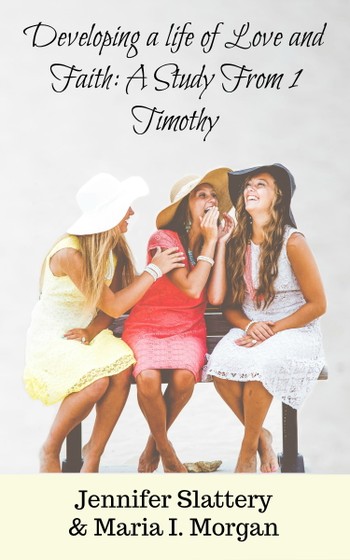 Each edition contains a short devotional, fictional excerpt, recipe, and more. You can sign up HERE. As an added bonus, all subscribers receive a free 36-lesson Bible study (in ebook form, link to download sent separately) on 1 Timothy. Visit her ministry, Wholly Loved, to grab a free copy of the Becoming His Princess Bible study, based on the life of Sarah from Genesis 12-23.
Jennifer Slattery is a writer and speaker who hosts the Faith Over Fear podcast. She's addressed women's groups, Bible studies, and writers across the nation. She's the author of Building a Family and numerous other titles and maintains a devotional blog at JenniferSlatteryLivesOutLoud.com.
As the founder of Wholly Loved Ministries, she's passionate about helping women experience Christ's freedom in all areas of their lives. Visit her online to learn more about her speaking or to book her for your next women's event and sign up for her free quarterly newsletter HERE and make sure to connect with her on Facebook and Instagram.
---