(Taken from Wholly Loved Devotionals on Crosswalk. Find them HERE.)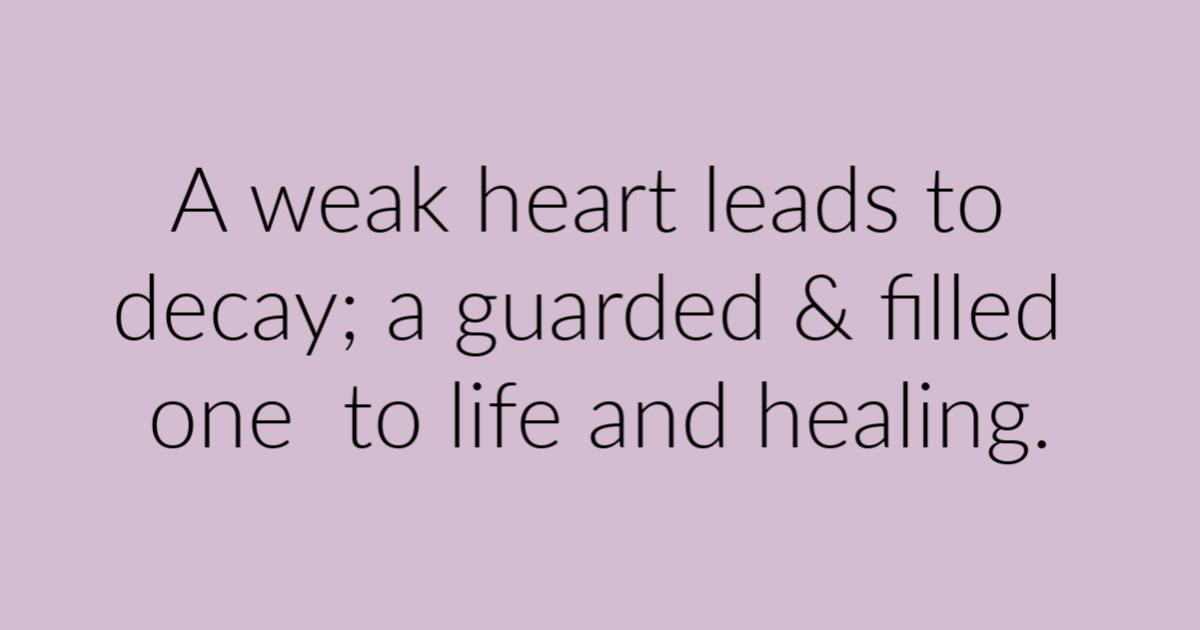 My heart, when left unprotected, inevitably begins to decay. The busier I am, the greater my stress, the greater the threat. If I want to remain strong and filled with the love, truth, and peace of Christ, I need to guard against negative influences while soaking in all that is good and right and true.
When my daughter was young, I ached for adult conversation. She was an only child, and I worried she was lonely as well, so I began signing us up for low-cost activities and social clubs. I became deeply engaged with one group in particular. We met numerous times each week, for outings and park days or to simply sit in one another's homes. Unfortunately, our discussions often centered on life's difficulties and how terrible or inconsiderate everyone's husband was.
I'd like to say I managed to listen without getting sucked into the toxic vortex, but I didn't. I always left frustrated with my life and marriage.
Then, one day, reality hit. I realized I always left those interactions crabby and dissatisfied, with life and my husband. These "venting" women were actually harming my marriage. I needed to be selective with my influences—to guard against negativity while intentionally studying and contemplating and learning to live in truth.
The winds may blow, but the woman anchored in Christ has deep, immovable roots. Drought may
come, and a heat wave may beat upon her branches, but though these outward challenges are unpleasant, they won't and can't destroy her, because she is continually fed by the sweet, pure stream that will never run dry.
Her fruitfulness isn't dependent on her circumstances or outward influences but the strength, wisdom, and power of God's Spirit welling up within.
This is God's call for all of us.
For more inspirational messages, visit Jennifer Slattery at JenniferSlatteryLivesOutLoud.com.
Additional resources:
Cultivating a Thankful Heart Bible reading plan on the YouVersion app.
The Fruit of an Obedient Heart: How God Makes Much of Our Little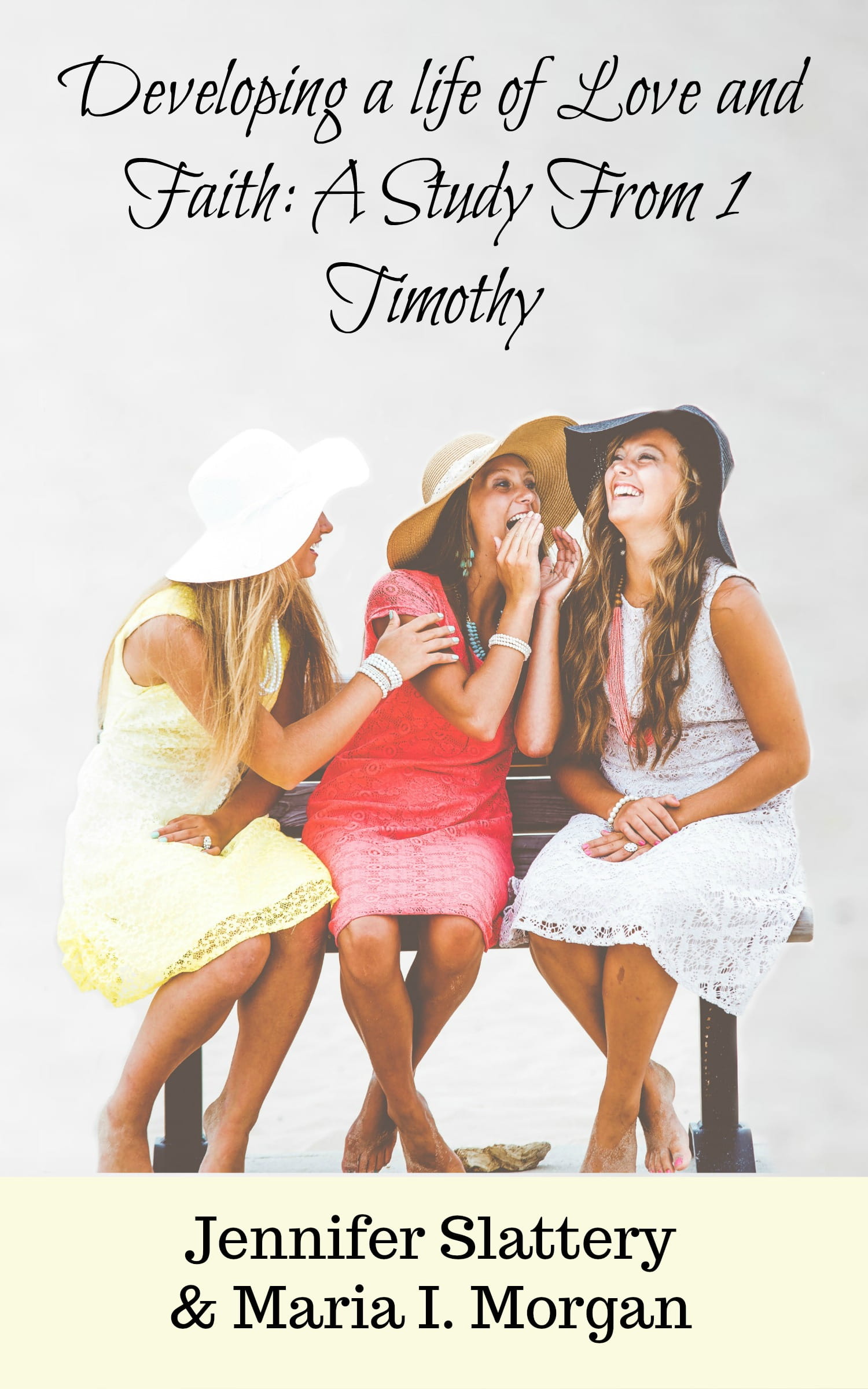 Make sure to sign up for Jennifer's free quarterly e-mailing, which releases soon. Each edition contains a short devotional, fictional excerpt, recipe, and more. You can sign up HERE. As an added bonus, all subscribers receive a free 36-lesson Bible study (in ebook form, link to download sent separately) on 1 Timothy.
You can also connect with her on Facebook and Instagram.
Keep an eye out for her upcoming podcast, Faith Over Fear, releasing at the end of this month through Salem Web Communications, and also her Faith Over Fear challenge, hosted on social media. (Find out more HERE.) Join the private Facebook group HERE.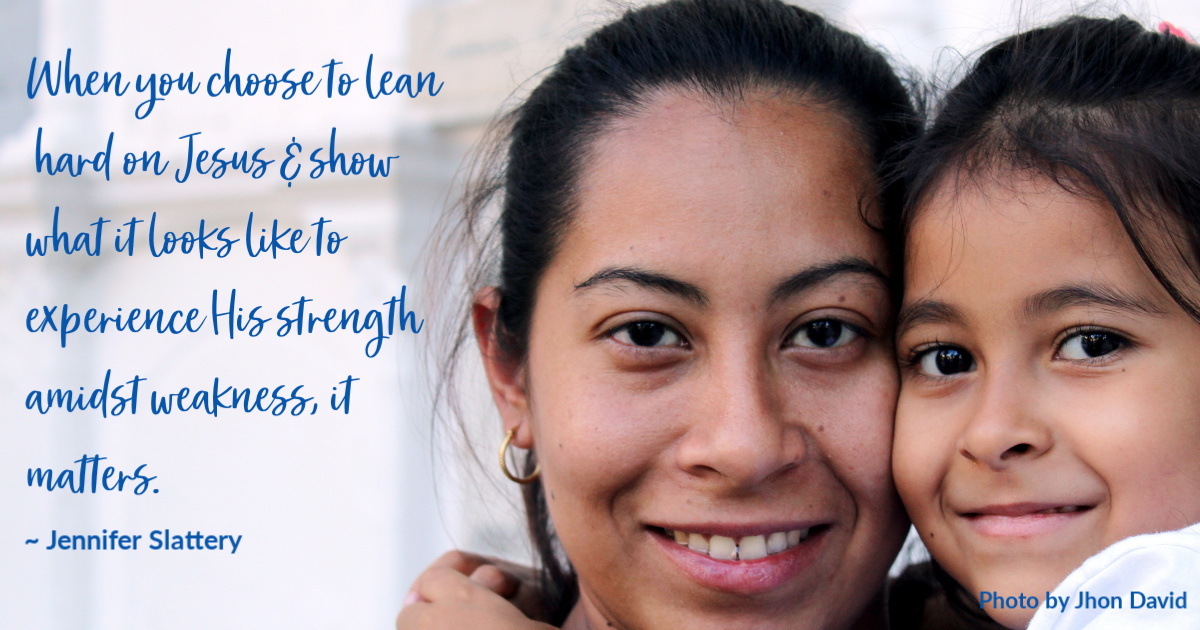 What you do each day matters. How you live your faith, it matters. When you pray, turn to praise music, or simply power through—it matters. This is especially true for parents.
They say children learn more about faith from watching us than they do from anything we might tell them. And though I think that's probably true, I hope it's not. Because there've been so many times I've messed up. Times when I've chosen selfishness over love, pride over forgiveness, and disobedience over surrender.
If left on my own, I would've completely messed our daughter up ten times over. But whenever my heart would begin to stray or deception set in, God would gently nudge me, saying, "This is the way, My daughter. Walk in it" (Isaiah 30:21). And because of that—because of Him—situations that could've destroyed our family and greatly hindered our daughter's faith had the opposite effect.
The most memorable occurred when we were living in Louisiana. The year before, my husband had quit his job and we packed our things and headed south, far from the church and friends we'd grown to love, only to find our lives uprooted less than six months later.
I was angry, frightened, and confused, and began to withdraw within myself, so consumed with what was going on within me, I was completely oblivious to how my growing irritability and sadness affected everyone else.
Until one morning, while laying in bed, Bible spread open before me, I read Proverbs 14:1, which says, "The wise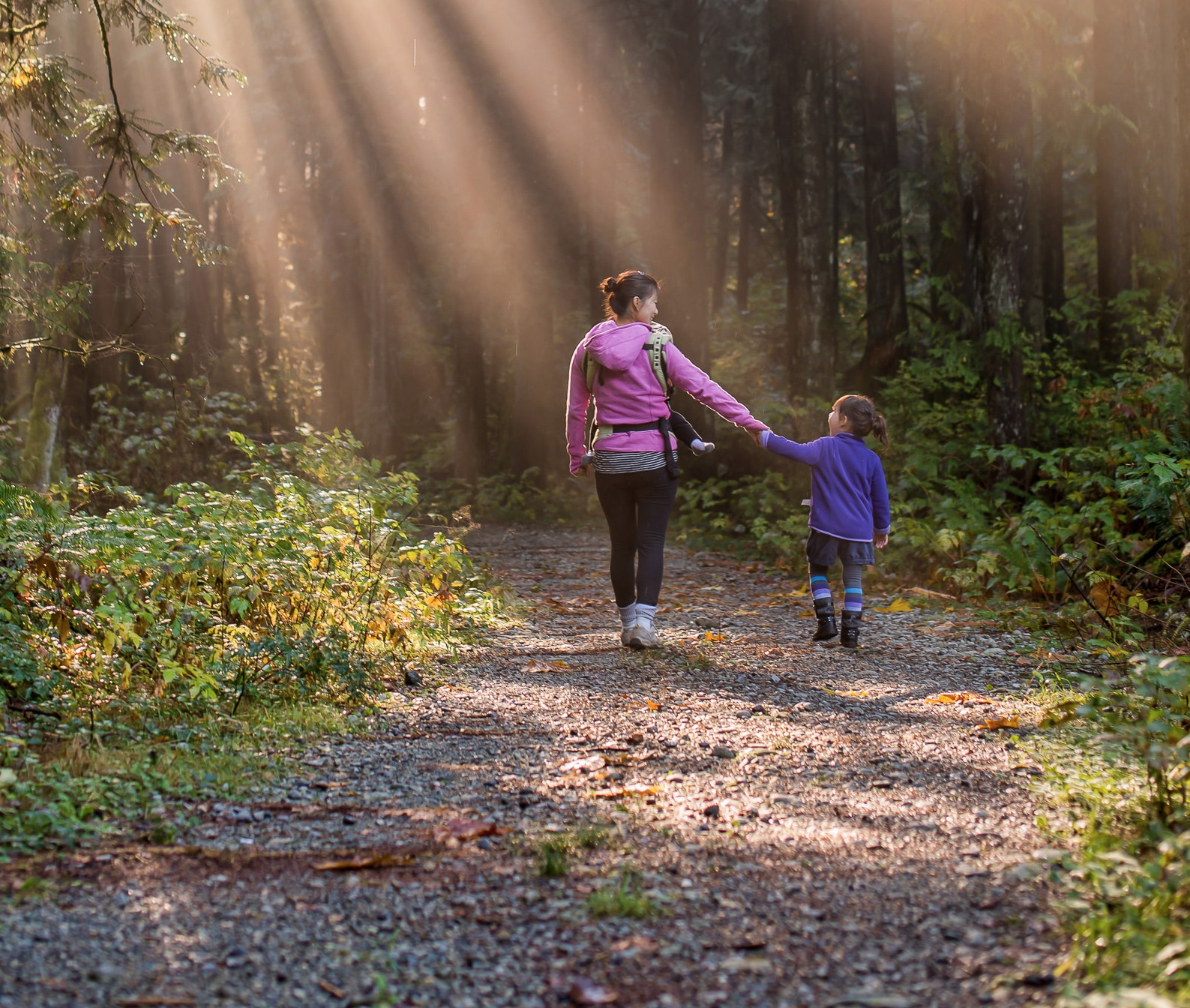 woman builds her house, but with her own hands, the foolish one tears hers down" (NIV). The moment I finished reading the verse, my daughter said, "Mommy?" and I looked up to find her standing in my bedroom doorway, watching me.
My heart wrenched as realization took hold. My daughter needed me, and she needed to see Jesus in me. She needed to see not only the faith that shouted hallelujahs on Sunday mornings or carted her off to Bible class. She needed to see the type of faith that could stand when it felt like the world was crumbling.
She needed to see what it looked like to lean on Jesus—that this Christianity thing was more than cheery slogans adults say to one another. She needed to see a real, living, steadfast faith, and our season of chaos offered the perfect opportunity.
From that morning on, I determined to behave differently. I was still sad and frightened. I was still angry over some of the things that had happened, but instead of pulling within myself, I began to focus on Jesus. Dinner turned from times of tension and silence to prayers and family devotions. Bedtimes turned to faith discussions where we openly talked about what we knew to be true in the midst of all that was going on.
And as a result, our family grew closer and I believe, Jesus became all the more real to a young, impressionable, and equally frightened little girl who needed an unshakable faith to stand on.
Let's talk about this! What are some ways you reveal enduring faith when life feels hard or uncertain? Share your thoughts with us in the comments below, because we can all learn from and encourage one another!
Speaking of faith, make sure to join Jennifer Slattery for her upcoming Faith Over Fear Challenge, launching on February 6th. You can find out more HERE and find free printable calendars HERE.
And sign up for Jennifer Slattery's free quarterly newsletter.
Subscribers receive
great, free content sent directly to their inbox along with a free, 36-lesson study (ebook form) based on truths presented in 1 Timothy (sent separately). (If you signed up and haven't yet received your free study, please contact me through this website so I can get that to you!) You can sign up HERE.
"He can stay out with his friends all day and night for all I care." She frowned, tossing her hand towel onto the kitchen counter. "Least then I won't have to see him sitting in front of the television while I run around like a crazy woman."
"All she does is nag, nag, nag. So I left my socks on the floor. Is that all she cares about–this stupid house?"
"What am I doing here, anyway? Would he/she even notice if I left?"
Perhaps you've been there, filled with so much hurt, the walls so tall between you and your spouse, you've given up trying. Because trying hurts, and you've run out of hope.
They say marriage takes work. That's true on a good day. But when life, fights, and destructive actions have chipped away at your love, it takes a down right marathon. But it can be done, and it will be worth it. So worth it. Because there's nothing quite as beautiful as forever, committed love.
If those words stir a spark in your heart, keep reading to discover some ways you can help bring healing, restoration, and passionate love back into your marriage:
1. Be the first to change
Someone's got to do it; why not you? When things are tough and tension is high, someone has to step up, humble themselves, and do whatever it takes to save the ship. Otherwise everyone's going down, and it won't be pretty. When chaos, or silence, reigns, we have two choices: focus on our spouse's faults–what they've said or haven't said, done or haven't done, and what we think we "deserve", which will only keep us miserable and in isolation. Or we can put our marriage first, muster up our inner strength, and do what we need to do. For as long as we need to do it.
The alternative? Live in defensiveness and self-justification, convinced your loneliness is all your spouse's fault, and slip further and further into isolation and misery. You may very well be "right", and completely justified in your anger. In fact, you could be right and justified all the way to divorce court.
2. Pray for heart change
Early in our marriage, my husband and I went through a very rough spell; like sitting in a divorce lawyer's office rough spell. I knew deep in my heart divorce wasn't an option, and there was no way I could rob our daughter of her daddy, so I–we–chose to stick it out. At first it was hard. Awkward. Tense. Honestly, I didn't feel a whole lot of love for my husband, so I began to pray. That God would soften my heart toward him and help me see the good in him. That God would help me see my husband's heart.
God honored that prayer, allowing me to see my husband on a much deeper level. What I realized–he was hurting just like me.
That prayer changed everything. It's been over a decade, and I'm still praying for both of our hearts, that God would soften our hearts toward one another and draw us closer.
3. Do something fun, silly even
I don't care how mad you are, how hurt you are, and how badly you want to curl up in bed with your box of tissues. In fact, that's when you and your spouse need to get out and play most. To remember why you fell in love. So you can begin to see the good in your spouse again–like the cute way he laughs when being goofy, or the way her eyes light up when she's amused, or maybe the way his gaze intensifies moments before he closes in for a kiss.
You remember that, right? The day his face brightened when you walked in the room? Or the way her breath would catch when you'd grab her from behind and wrap your arms around her?
You can have that again, if you really want it.* It won't be easy, but twenty years from now, after you've done the hard work and have surrendered your heart and marriage to Christ, and you and your beloved are sitting on that porch swing, wrinkled and gray and more in love than you've ever been, it will be worth it.
So worth it.
Whether your marriage is struggling or vibrant, pause right now and pray for strength. Pray for the strength to be the spouse your beloved needs, to move past old hurts and begin each day anew, to see the best in your spouse even when arguments occur, life gets crazy, and you're both stressed out.
Then listen to this song, a song my husband–a man I almost lost some 14 years ago–sang to me, one night on a very special date, a date we enjoyed because we did the hard work and chose to stay.
*Please note, I am not referring to marriages shattered by addiction or abuse as I'm unqualified to understand or discuss those types of marital problems.