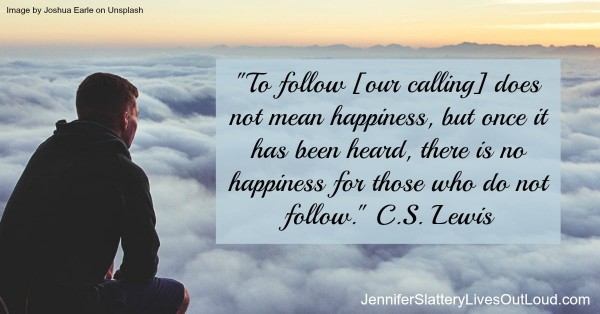 (Reposted by permission from Wholly Loved Ministries)
"To follow [our calling] does not mean happiness, but once it has been heard, there is no happiness for those who do not follow." ~C.S. Lewis
If one were to make an analogy for how I lived the first thirty-some years of my life, they'd say I was a hamster darting every which way but never getting anywhere. I've attended eight different colleges and have pursued numerous degrees but could never settle on any. Because God had a different plan; I just wasn't aware of it yet.
I never thought I'd be a writer. I never envisioned I'd one day lead women or speak to church groups. And yet, when I look back, He'd been guiding me in this direction all along, from my first essay to that moment when I finally surrendered.
That was a scary moment. And to be honest, I fought God's call for almost a year.
That was an incredibly dark and lonely year. The more I fought God, the less I was able to feel His presence, the less I was able to hear His voice. And yet, I continued to dig my heels in, wanting Him to fulfill my plan. Or at least give me some kind of indication, a promise, actually, that His plan would actually work out. That my surrender wouldn't leave me cornered.
Senior pastor Lance Burch of Reality Church in LaVista says often when we embrace God's purpose for our lives, it costs us something. We have to let go of something in order to grab hold of God's best.
For some, that may mean changing jobs, or readjusting their schedule. It may mean stepping away from something to make time to serve. In my case, it was my security, and my pride. Most of my decisions were based on projected income and how I thought others would view me, were I to gain a particular degree. I wanted to be perceived as smart, competent.
But God pushed, prodded, and nudged me to release my death grip on my life-plan. He asked me to trust in Him—no matter how foggy the road ahead appeared.
So often, that seems to be the way God leads. When He called Abraham, He told him to go.
"Where Lord?"
"To the land I will show you."
In other words, trust in Me, follow Me. I'll reveal My plan in My timing.
I believe that's true for all of us. I like to know the ten-year plan. But God says, "Trust and follow Me."
I like to know how it will all turn out. But God says, "Trust and follow Me."
No matter where I am on my journey, whether I'm just beginning to catch a glimpse of His plan or am in the thick of it, trudging up a steep hill, my role is simple—to trust and follow.
He will take care of the rest, in His way and His perfect timing.
And when His plan is revealed, when I'm sitting squarely in the center of His will, it will be better, more glorious and awesome, than anything I could've imagined. And looking back, I'll say, "Lord, why didn't I surrender to Your will sooner?"
***
Before you go, I encourage you to sign up for my free, quarterly newsletter to receive devotions, short stories,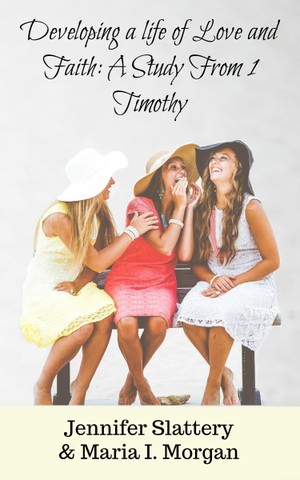 recipes, and more sent directly to your inbox. When you sign up, you'll also receive a free, 36-lesson study (ebook, sent separately) that springs from 1 Timothy. You can sign up HERE. And make sure to visit me at JenniferSlatteryLivesOutLoud to read more encouraging messages from myself and other authors. You can find my site HERE.
If something in today's post stirred your heart or a hunger within, consider joining us for one of our Wholly Loved conferences to learn how to live bold and brave and embrace risks for Christ. Check out our upcoming conferences page for more information, or contact us to book us for your next women's event.
Other resources you might enjoy:
A Woman With a Past, A God With a Future by Elsa Kok
Called and Accountable by Henry T. Blackaby and Norman C. Blackaby.
---