Every Moment Has the Capacity for Eternal Impact
When the world feels chaotic, when our world titles or seems to stop, it's easy to lose our focus. To sort of bide our time until life returns to normal. And we can do that, sure. But we'll likely miss out some amazing, eternially glorious moments. Not necessarily exciting, news-worthy moments. In fact, if we're always searching for those, we'll likely miss those small yet precious miracles and assignments God sprinkles throughout our most mundane days.
In 2005, Katrina captured the entire nation's attention. Stories abounded—of heartache and devastation, but also of awe-inspiring acts of love. Of churches housing hundreds, even thousands. Of businesses giving away truckloads full of food. Of volunteers arriving in buses to clear out the wreckage. We were living in Bossier City, Louisiana at the time, far enough from the storm to remain untouched personally, but close enough to receive a rapid influx of displaced survivors. While my involvement was limited, it felt exciting to be part of something so huge, so … emotional. But then, we moved to a small town in Texas and a much smaller church, not knowing how long we'd stay or where we'd move next.
There weren't any grand ministries to join or history-making events to serve in. We'd also recently lost a great deal, though not from the storm, including our involvement in ministries we found deeply fulfilling.
In this new environment, we were newbies and strangers, quite literally sojourners who were merely traveling through.
Initially, I wanted to pass my time until "real life," whatever that might look like, resumed.
But God prompted a sense of anticipation that He had a plan for me, even there. That He had indeed moved us there for "such a time as this." Not worrying about what that might look like, I began my mornings with a simple yet expectant prayer: What do You have for me today, God?
God consistently answered—calling me to love, to serve, to engage, right where I was at, however I could. So, I got plugged in to the local homeschool community and began serving in that small-town church.
About a month later, we moved once again, initially, to another rent-by-the-month apartment, this one much worse than the previous. Our door had five deadbolts, an indication of the area's safety, and the carpet was so saturated in pet urine, the smell could knock a person back. Thankfully, we knew our stay would be short but weren't certain we'd land next.
In many ways I was living in the interim, that uncertain and undefined middle ground of transition.
But in that quiet place of waiting, God stirred within me the assurance that He could use me, even there. And so, I repeated my prayer, "What do you have for me today, God?" And once again, He spoke, not with words, but with a spark—to write. Yielding to Him in that dark and dreary apartment, I started typing a curriculum. My obedience, frankly, made no sense and had no clear outlet. In fact, I was certain the project wouldn't go anywhere beyond my personal computer, and it didn't, not until another move, and another year, later. One morning, I sensed Him calling me to reach out to the educational minister at that small-town Texas church we'd visited for such a short time, to tell him about what I'd written.
The idea felt preposterous and embarrassing! After all, how was I expecting him to respond? To congratulate me for pounding away at my keyboard? But God's leading felt clear and strong, and so, not concerning myself with the whys or hows, I obeyed.
After yet another move and another full year, with that email long forgotten, I received a phone call. It was from the children's director employed by that small Texas church. They wanted to use my curriculum for their summer vacation Bible school. What's more, they wanted me to come speak to their parents on their "celebration night."
Ephesians 5:15-16 tells us to "Be very careful, then, how you live—not as unwise but as wise, making the most of every opportunity, because the days are evil" (NIV).
This verse reminds me that our world needs Jesus, now more than ever. We're all living in a "time such as this." God might call some of us to lead or launch ministries and others of us to walk across the street. And our small steps of obedience might carry us, one surrendered act at a time, to a more clarified or specific calling, like mine did, or they might simply characterize a life of love, which is, I believe, even more glorious. Regardless, we can know this: God can and will use us, right where we are, and right at this moment.
We can waste our days, waiting for that great opportunity or more convenient time—like when all the C19 social distancing ends, or we can quietly ask God, "What do you have for me today?"
I guarantee He'll answer.
Speaking of living each moment for Christ, I recently shared a similar conversation with Dawn Scott Damon, host of the Arise Podcast. You can listen HERE.
Jennifer also invites you to sign up for her free quarterly newsletter. You can read her most recent edition HERE.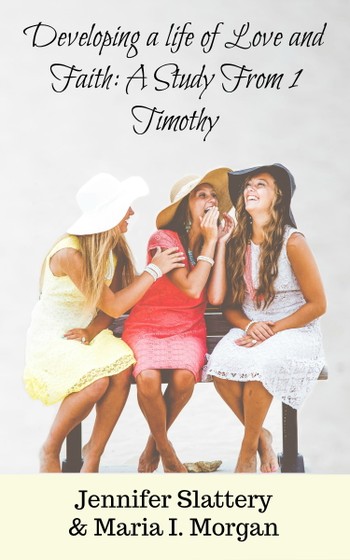 Each edition contains a short devotional, fictional excerpt, recipe, and more. You can sign up HERE. As an added bonus, all subscribers receive a free 36-lesson Bible study (in ebook form, link to download sent separately) on 1 Timothy. Visit her ministry, Wholly Loved, to grab a free copy of the Becoming His Princess Bible study, based on the life of Sarah from Genesis 12-23.
You can also connect with her on Facebook and follow her on Instagram. Find her ministry HERE.
Jennifer Slattery is a writer and speaker who hosts the Faith Over Fear podcast. She's addressed women's groups, Bible studies, and writers across the nation. She's the author of Building a Family and numerous other titles and maintains a devotional blog at JenniferSlatteryLivesOutLoud.com.
As the founder of Wholly Loved Ministries, she's passionate about helping women experience Christ's freedom in all areas of their lives. Visit her online to learn more about her speaking or to book her for your next women's event and sign up for her free quarterly newsletter HERE and make sure to connect with her on Facebook and Instagram.
---