Running Your Faith-Race Well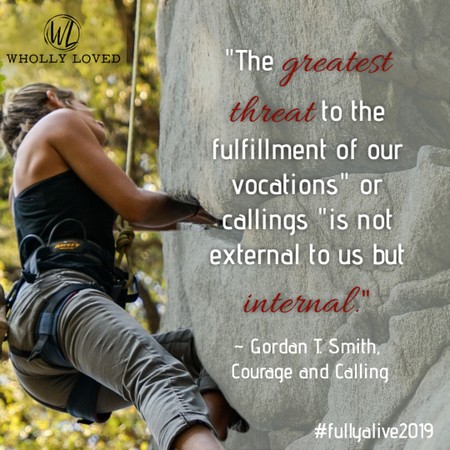 "The greatest threat to the fulfillment of our vocations" or callings "is not external to us but internal." Gordan T. Smith, Courage and Calling.
For years, I routinely allowed negativity, insecurity, pride, and selfishness to hinder my pursuits. All of these internal passion-doucers stole my focus and effectiveness. As a former athlete, I find this absurb as I'd never be so ... careless in a race.
One Sunday afternoon, midway through the bike portion of a sprint triathlon, God used random flashes of color--trash blurred in my peripheral version--to grab my attention. Riders from previous heats had tossed empty water bottles, "goo" wrappers (a high-energy food eaten during long races) and anything else that had been previously strapped to their bikes, on the road. Although I doubt that extra zillionth of an ounce wrapper fragment would have weighed them down, their behavior reminded me of a verse in Hebrews:
"Therefore, since we are surrounded by so great a cloud of witnesses, let us also lay aside every weight, and sin which clings so closely and let us run with endurance the race that is set before us" (Hebrews 12:1, ESV).
Watching endurance athletes as they gear up for a race adds great imagery to this verse. While preparing, the athlete evaluates everything for its efficiency. They quickly eliminate all unnecessary items. This careful evaluation continues throughout the race as the biker or runner stategically analyzes each curve in the road or dip of a hill. Racers who make proper adjustments and keep their eyes focused on the course ahead finish much stronger than those who rely on brute strength alone.
This is true in our spiritual life as well--in how we pursue every God-assigned responsibility.
As I often mention during Wholly Loved's Fully Alive Conference, living fully alive means living fully--with everything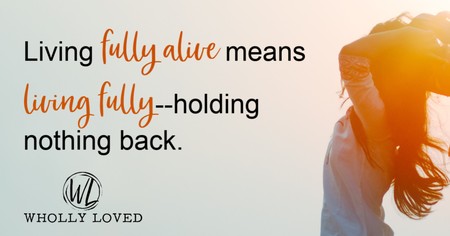 we've got. This involves intentionality, focus, persistence, and diligence.
Scripture says God has a course mapped out for each of us, and although the finish line is nothing more than a glimmer tucked at the top of a long, steep hill, God has provided enough brightly marked cones to get us there. If we would but keep my eyes glued to the markers instead of all the trash littered around us, we could avoid many of the pitfalls that slow us down.
We writers often talk about weasel words, which are unnecessary words that ultimately don't add anything to our sentence and ultimately weaken one's writing. I've discovered, life can be riddled with weasels as well; those unnecessary time-sappers that distort our perspective, hinder our effectiveness, and threaten to tug us off course. If we let them.
For years, negativity and insecurity were my greatest "pests." I'd experience a setback or discouragement and woudl allow gloominess or regret to rob me of an entire afternoon. These pity-parties did nothing to help the situation. They added nothing of value to my life, my calling, or my relationship with Christ. In fact, they were destructive destractions.
So I determined not to let these varmints wreak havoc in my spiritual garden! I determined to be diligent about my thought life and my focus, because life--mine or the lives God wants me to impact--is much too precious to waste.
What about you? What are your greatest time-sappers and how will you get rid of them? How often do you allow negative thinking, including insecurities, to steal your focus and effectiveness? What can you do today to change that?
And make sure to join us for one of our upcoming Fully Alive Conferences to learn how to move from merely surviving to thriving! You can find out about upcoming events HERE. Don't live close enough to attend? Invite us to come to you! Contact us HERE to find out how to host a Wholly Loved event in your area.
Before you go, make sure to sign up for Jennifer's free quarterly emailing. As a thank you gift, subscribers receive a free, 36-lesson Bible study based on 1 Timothy (download link sent separately, in a welcome email). They also receive great content (short stories, devotionals, recipes, and more) sent directly to their inbox each quarter. You can sign up HERE.
---