The Power of Thanksgiving When Life Hits Hard
(This post originally appeared on Wholly Loved Ministry's website. Used with permission)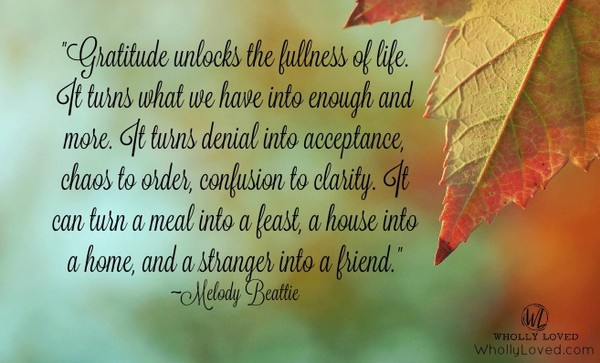 "Gratitude unlocks the fullness of life. It turns what we have into enough, and more. It turns denial into acceptance, chaos to order, confusion to clarity. It can turn a meal into a feast, a house into a home, a stranger into a friend." ~Melody Beattie
It was one of those phone calls that makes your stomach literally drop, stirring up a nausea that won't abate until you learn, will this person you love live or die. And then came the word no one wants to hear—cancer.
It felt like a cruel twist—A year ago in November, while millions prepared for a holiday designed to celebrate gratitude, my mother-in-law learned she'd be facing an intense battle for life. One that resulted in two-hour car rides to Houston, overnights, followed by long days at MD Anderson, a cancer treatment facility so large, one feels as if they're training for a marathon getting from one end to the other. And all this while fatigue-inducing medicine pumped through her veins.
It would have been easy, and perhaps even expected, and certainly justified, for my mother-in-law to slip into despair. To camp out on the question that has plagued so many, when life hurls a devastating blow: Why me?
And though I imagine that question arose throughout her diagnosis and treatment, she deliberately chose not to stay there.
She deliberately chose life, and by life, I mean much more than her fight against cancer. Through the incredible power of thankfulness, she chose to embrace every moment and blessing God sent her way.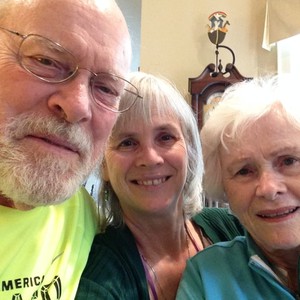 When she felt tired, I heard, "I'm blessed to have such a supportive family."
When in pain, I heard, "I'm blessed to have such caring doctors."
When forced to make the long trek into one elevator into another, down one hall after another, she looked around, made eye contact, and offered a kind word to the other patients, many of whom looked as if they'd shriveled inside themselves, saying to me once they left, "I'm so grateful I am doing as well as I am."
We tend to notice, with increased prominence, those things we focus on most. When we focus on the hard, it only gets harder, until it paralyzes us in darkness and despair. But when we focus—or fix our thoughts, as Philippians four puts it—on the true, honorable, right, pure, lovely, admirable, and those things that are excellent or worthy of praise, we experience a peace and underlying—fortifying!—joy that surpasses our circumstances.
I think often, we expect gratitude to come easily. When the sun is shining and our children are home and well, when we ourselves feel healthy and strong or are surrounded by blessings, praise often comes unbidden.
But what about when life hits us hard? It is then that we have a beautiful and precious opportunity to "Make thankfulness [our] sacrifice to God" (Ps. 50:14a).
In 1 Thessalonians 5:18, Paul tells us to "Be thankful in all circumstances, for this is God's will for you who belong to Christ."
For this is God's will for us.
Perhaps, in part, because He knows the hope that comes from shifting our focus off of our struggles and onto the mercies He showers upon us each and every day. If you're having a difficult time seeing those mercies, I encourage you to consider my mother-in-law's story and consider how you might follow her example. Doing so likely won't alleviate the struggle, but I guarantee it will increase your strength to fight it.  
---