When Others Hurt or Betray Us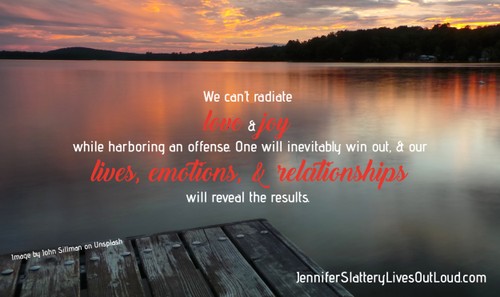 We cannot seek vengeance and rest in God's grace. We can't radiate love and joy while harboring an offense. One will inevitably win out, and our lives, emotions, and relationships will reveal the results.
Few wounds hurt as deeply as betrayal. It pains our hearts, shatters our trust, destroys relationships, and most notably, awakens our inner sense of justice. Ah, vengeance! To make the other pay for what they did, or at the very least, to feel the same pain they have caused us.
Whenever I think of betrayal, mine or someone else's, I can't help but think of the ancient Hebrew named Joseph. (Gen. 37-50) That poor man was betrayed continuously! First by his family then his boss, then by two men he helped in a darkened dungeon. And how did Joseph respond? With bitterness, spending his time calculating how he'd get even? Or at the very least, let everyone know how greatly he'd been wronged?
Nope. He responded with praise-filled surrender, because he knew God had it all—Joseph's hurts, dreams, and current circumstances—under control. More than that, he knew God is a God of justice. It's part of His very nature. Couple this with His Father's heart, and you've got an all-powerful, ever-present, completely just and righteous God who, at this very moment, is working all things—all things!— for our good (Rom. 8:28) and His eternal purposes.
That means that betrayal that completely leveled us and even now causes our teeth to grind will be used for our good.
Consider this, speaking of Jesus, Paul, an ancient evangelist, said, "This Man was handed over to you by God's set purposes and foreknowledge; and you, with the help of wicked men, put Him to death by nailing Him to the cross" (Acts 2:23—emphasis mine).
Speaking of this, in his book, The Peace Maker, Ken Sande says, "[God] chose not to restrain the acts of evil men so that His plan of redemption would be fulfilled through the death and resurrection of His Son" (Rom. 3:21-26). (Pg. 61)
In other words, God allowed His only beloved Son to be betrayed to death so that you and I might be saved. Pause and meditate on this for a moment—the very God that allowed you to experience hurt is the same One who allowed His son to be betrayed and wounded—for you. That's incomprehensible love. Enough love to warrant our full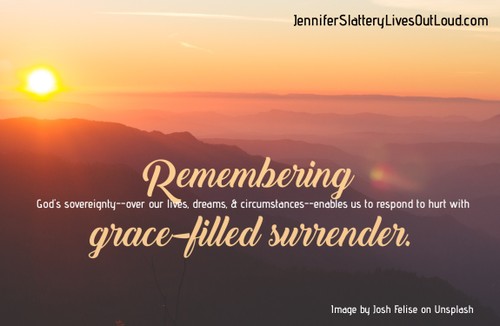 surrender and trust, even when betrayed and confused.
Because we either believe God is all-loving, or we don't.
We either believe He's all-powerful or we don't.
We either believe He's all knowing or we don't.
We either believe He's just and righteous or we don't.
And let's not forget, it was our sin that drove Christ to the cross in the first place—that led to His betrayal unto death.
If we believe those things, and if we remind ourselves of those things, especially when we're hurting, our response to our offender will be utterly different.
Grace changes everything and takes vengeance off the table, replacing it with surrender and praise.
Vengeance never belonged to us, anyway. As Romans 12:19 says, "Dear friends, never take revenge. Leave that to the righteous anger of God. For the Scriptures say, 'I will take revenge; I will pay them back,' says the LORD" (NIV).
In other words, God will deal with appropriately—righteously—with the offender and the offended. So take a deep breath and let it go. It's too big of a burden for you to carry, anyway. And in trying, chances are, we'll only get in God's way.
As you read my thoughts today, did one hurt or person rise to the forefront of your mind? Is God asking you to do anything? Share your thoughts with us in the comments below, because we can all learn from and encourage one another.
If you've been joining us for our (Wholly Loved's) Becoming His Princess Bible study, this week we're focusing on our unshakable security--on resting in and relying on Jesus when fears, unknowns, and insecurities assault us. Visit our SoundCloud channel HERE to listen to each week's opening session. (We'll be uploading these in video form as we have them. You can watch week one's video HERE.) Grab a free copy of the study HERE.
Before you go, make sure to sign up for my free quarterly newsletter to receive short stories, recipes, devotions, and more! You can subscribe HERE. As a thank you, subscribers receive a free, 36-lesson study based on 1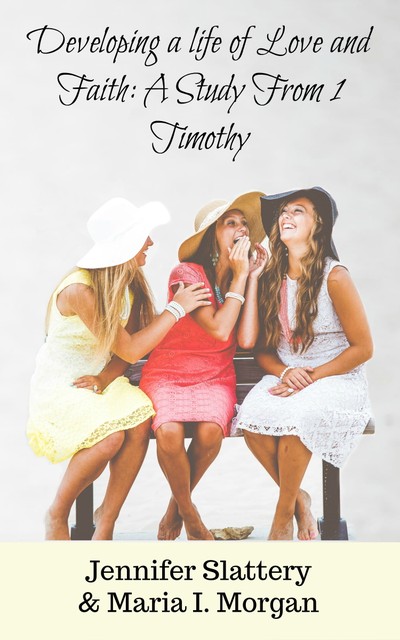 Timothy (ebook, with a link to download sent in a separate email).
---