Stop Blaming yourself!!!
Kelly Balarie

Kelly, often called a "Cheerleader of Faith", encourages other to live with passion and purpose. While Kelly has suffered through various mental, physical and financial trials, she has found God's unique plan in these dark places.

2017

Jan 13

Comments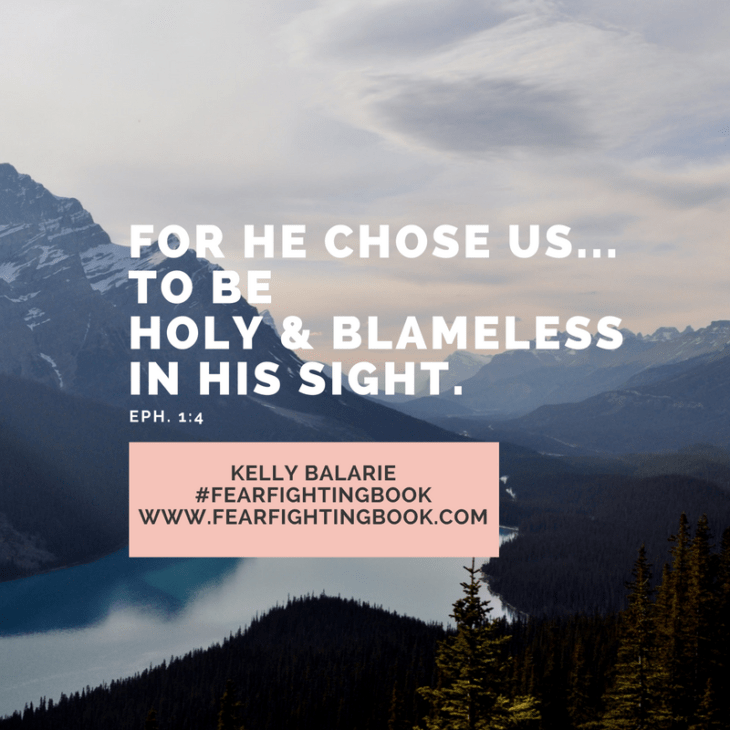 Is there something in your life – you can't forgive yourself for?
There is something, even today, I am still angry at myself for doing. I can't tell you all the full story, although I wish I could. There are people, and places and things, that have to be protected.  But, what you need to know is this: for a long time I've walked around with a pile of regret, loaded up with the bricks of fear that I can never rewrite the past.
I keep asking that the God of our Lord Jesus Christ, the glorious Father, may give you the Spirit of wisdom and revelation, so that you may know him better. Eph. 1:17
Peace, Child. I call you blameless. 
"And you also were included in Christ when you heard the message of truth, the gospel of your salvation. When you believed, you were marked in him with a seal, the promised Holy Spirit, who is a deposit guaranteeing our inheritance until the redemption of those who are God's possession--to the praise of his glory." Eph. 1:13-14
Peace, Child. I call you blameless. 
Did you hear me? I. call. you. blameless. Col. 1:22
Not blamed a little bit when "that girl" stands taller, thinner and richer.
Nor blamed when you royally drop all the marbles of so-called great faith.
Nor blamed when your mind starts to dig deep tracks into despair.
Nor blamed when you can't seem to be sinless enough to win my accolades.
Nor blamed when don't have as good as a comeback as that other person.
Nor blamed when you look like a walking zombie of motherhood.
Nor blamed when your house is messier than a city demolished post-tornado.
Nor blamed when you feel lowly, last or marginalized.
Blameless. Child. Blameless.
For he chose us in him before the creation of the world to be holy and blameless in his sight. Eph. 1:4
Peace Child. I call you loved. Jo. 3:16
Not loved just when you're performance is perfectly stepped and played.
But loved just as the unique creation I formed.
Your imperfections are what I call beauty. I know them and I love them.
Not like I love "her"--and for a good reason. She is not you, nor does she have your call.
I know how to love you, just as you need.
I know how to help you, just as my will prescribes.
I made you to be you, because I like you.
I made you to be you, because I have plans for you that no one else owns.
I made you to be you, because you know how to love the hurt that were hurt like you.
I made you as you, because there are people that need the most authentic being--of you.
I made you to be you, because I want you as mine. I enjoy you. I like you. I call you friend.
Order Kelly Balarie's new book, Fear Fighting today! Or, get all her blog posts by email. 
Get all Purposeful Faith blog posts by email - click here.
Join Kelly on her blog, Purposeful Faith, on Twitter and on Facebook.
---
---