In Review: Rock of Ages... Hymns of Faith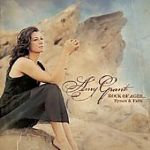 CD: Rock of Ages…Hymns & Faith
Artist: Amy Grant
Label: Word Records
Quote: "The list of hymns worth doing is a lot longer than one or two or even three records worth. My parents took us to church Sunday morning, Sunday night and Wednesday night. I've never thought about hymns as being anything except foundational. They are just life tools," says Grant.
FYI: Her second hymns project and 20th career record, Rock of Ages includes a re-recording of "El Shaddai," a duet with husband Vince Gill ("Rock of Ages") and Grant joined by her parents and sisters on "Turn Your Eyes Upon Jesus."
The Bottom Line: Grant makes the hymns of old new again in her arrangements of these classic songs, clothed perfectly in blues, Americana, gospel and folk. Her timeless, signature voice offers an honest purity to songs of a faith that beg for such an interpretation.
Featuring: "Anywhere With Jesus," "Carry You," "Sweet Will of God," "Joyful, Joyful, We Adore Thee," the Jesus medley of "Jesus Loves Me / They'll Know We Are Christians / Helping Hand," "Rock of Ages," "O Master, Let Me Walk With Thee," "Abide With Me," "God Moves in a Mysterious Way / The Lord Is in His Holy Temple," "Turn Your Eyes Upon Jesus," "El Shaddai," "I Surrender All" and "O Love That Will Not Let Me Go."
—Jackie A. Chapman
Watch the latest Amy Grant music videos at her official artist page on Godtube.com