Christian CEO Gives Biblical Guidelines for Business Success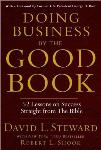 The founder of the largest African-American-owned business in the U.S. says his company's success is due to the biblical principles on which it is built.

In his new book "Doing Business by the Good Book" (Hyperion Press, 2004), author and entrepreneur David Steward says persistence, faith, and a servant's attitude helped build his company, World Wide Technology, Inc. (WWT), from a seven-person operation in 1990 to one of the largest e-commerce businesses in the nation today, with 490 employees and over $1.1 billion in sales.

Prior to starting his own company, Steward held various senior-level management positions at Wagner Electric Company, Missouri Pacific Railroad, and Federal Express Corporation. He says true success is always built on service and commitment. "It's about serving: give and it will be given to you," he says.

Building business success involves sowing seeds of service and commitment to others and "getting outside yourself, outside your own ego," Steward says. Many times a lot of egos get involved in business, he explains, and this inevitably results in "edging God out."

But Steward says if organization managers and leaders remember to cultivate a servant's heart and "a mindset of putting people first," that mindset will permeate the business and manifest itself until not only employees but even customers and suppliers are affected.
WWT is an information technology solutions provider based in the St. Louis, Missouri, area, with numerous regional offices nationwide. Steward notes that he and his staff experienced many trials over the building years. But he says if Christians live out their faith in the corporate world, they are sure to reap a plentiful harvest of benefits.

"We had some real challenges in developing this business," the enterprising CEO says, recalling problems with "the wrong people in the wrong slots," bad business relationships, and hard times, such as one low point when he had to watch, along with some of his employees, as his car got repossessed. But the Christian businessman says such challenges can be revealing.

"You find out who you're married to during those periods of time. You find out who your partners are in the business as well, and who's willing to stay and commit themselves and be faithful to the vision," Steward says.

WWT's founder lives in the St. Louis area. "Doing Business by the Good Book," which is subtitled "52 Lessons On Success Straight From the Bible," is based on a year-long Bible study Steward conducted for his church Sunday school class on following biblical principles in conducting business.



© 2004 AgapePress.  All rights reserved.  Used with permission.