Profound Conclusions Reached on a Different Kind of Snow Day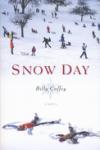 Author: Billy Coffey
Title: Snow Day
Publisher: FaithWords

Peter Boyd wakes up one morning to see heavy snow unexpectedly blanketing his Virginia mountains. Knowing he may be receiving bad news at work, he decides to take a "snow day" and stay home. Perhaps some down time with his wife and two young children will distract and relax him.

But an unplanned day at home means an emergency trip to the Super Mart, so Peter finds himself driving through the storm to pick up needed supplies. During his extended time alone, he finds himself ruminating on his life—what his potential lay-off from work will mean, how events conspired to put him where he is now, where and in whom he places his worth. He worries about the unknown future, the possible upheaval a job loss might mean, why God would let hard things happen. Those inner demons common to people in crisis…Peter confronts them all.

Along the way he meets old friends, observes a secret "Santa" in action, and chats with a sweet, but scarred, woman and her doting husband. On each occasion, he realizes truths that he should have already known but that had been crowded out by the worries of life.

Back home, Peter spends time with his children and continues to ruminate on a variety of concepts that all relate back to God. He sees a young man torn between safety and exhilaration. A UPS delivery man teaches him about kindness. A potential job opening brings him to a decision point.

With each observation, each conversation, Peter learns a bit more about himself. He is "everyman"—any one of us could walk in his shoes and experience the strain of apprehension, the stretching of our faith in tough times.

However, I must admit I've never observed my local super store with quite the level of focus and insight as Peter. I don't often get introspective while jostling for the last loaf of bread or wandering the gift aisles in hopes of the ultimate find. I'm too busy surviving and completing my task to wonder about the numerous people I pass or may talk with when I slow down.

Written from Peter's first-person perspective, each chapter flows so effortlessly that you may think it's just a stream of consciousness, his random reflections on the people he meets and events that happen. But Coffey is a skillful writer, packing in truth and insight using almost lyrical language.

In fact, the quality of writing is what grabs you from the beginning. Never mind that Peter packs more into his snow day than seems possible. Never mind that he comes to an astonishing number of profound conclusions. The simple, personal way in which Coffey conveys Peter's thoughts will capture your attention and make you think about what truths you might need to ponder.

You might even observe your fellow super store shoppers a bit more closely.



**This review first published on November 23, 2010.