"The Prodigal Project, Book Two: Exodus" - Book Review
Whitney Hopler

Crosswalk.com Contributing Writer

2003

9 Aug

COMMENTS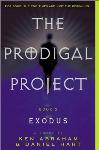 Author:     Ken Abraham and Daniel Hart
Publisher: Plume, an imprint of Penguin Group (USA), Inc.

The staggering success of the "Left Behind" series of novels has made many people in the publishing world take notice of readers' hunger for apocalyptic stories.  A fiction series called "The Prodigal Project" bears a striking resemblance to the "Left Behind" series, and readers may be inclined to think that these new books are simply inferior knockoffs.  But they will be pleasantly surprised to find that "The Prodigal Project" books can do a great job of illustrating what the end times might be like with a different cast of characters.

The latest installment in the series – "The Prodigal Project, Book Two: Exodus" is just as engaging as any of the "Left Behind" series books, drawing readers into the story with vivid descriptions of what the world could be like just after the Rapture.  In fact, the book's descriptions are so beautifully written that readers will likely find its images etched deeply into their minds long after they have finished reading.

That strength can sometimes be a detriment, however, because authors Ken Abraham and Daniel Hart seem almost obsessed with writing gruesome death scenes.  The way they describe those horrors is powerfully lyrical, but readers might find themselves wishing they would apply their descriptive talents to more pleasant scenes.  In any case, this isn't the type of book that people will want to read while they're eating (if they're easily grossed out), or before they go to bed (if they're prone to nightmares).

The authors do well creating a sense of suspense, whether they're describing the spiritual confusion of seekers, the tactics of the Muslim mujahideen, or the seemingly hopeful (but actually evil) plans of a character named Azul Dante who wants to create a new world order.  By the end of the book, readers will likely want to read the series' next installment.

Get 1 Christian Bestseller for FREE, plus FREE shipping.  Click  here for details.