Wait for Me
Dawn Pharris

Book Reviewer

2002

30 Aug

COMMENTS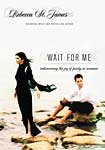 Saving yourself for your wedding day is often depicted as an unrealistic dream by much of society today.   Through her book Wait for Me, Rebecca St. James encourages singles to commit to God's plan for sexual purity until marriage, keeping the dream of true romance alive.
Inspired by the great impact her song "Wait for Me" has had on so many individuals, St. James felt the need to write a book that would support others dedicated, like herself, to abstinence.   She also offers hope and healing to those who have regrets, stressing to them that it is never too late to accept God's mercy and follow His ways.
Wait for Me touches on the physical, emotional, and spiritual consequences of premarital sex and ways to avoid temptation.   Personal stories of those who have and have not waited, along with scriptural passages on this subject, help to illustrate the importance of God's desire for sex to be within marriage.
St. James shares tips she has found helpful in protecting her purity and includes advice from her two mentors, her mother and grandmother.   Chapters on love and marriage, a second chance, and a question and answer section are also here to guide readers in guarding the mind, heart, and body.
In a world centered on self and doing what feels good, it is so refreshing to find a book that embraces God's plan for sexual purity.   Wait for Me is a must-read for teens and young adults, helping them to pursue the dream of waiting for true love.