Alathea Downsizes and Perseveres on Roots
Kevan Breitinger

CMCentral.com

2007

23 Nov

COMMENTS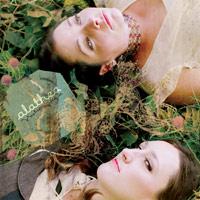 Artist: Alathea
Title: My Roots Grow Deeper
Label: Independent
We don't always cover albums out for more than a month or two but when I read that Alathea's "Hurricane" had been chosen as winner of the We Are Listening 2007 Singer/Songwriter Award, I knew I wanted to check it out.
The path of creative expression has not always been the smoothest for Alathea, formerly a trio and now, for My Roots Grow Deeper, a duo for the first time. But the same spirit of persevering strength that is apparent in the lives and ministry of this talented bluegrass pair runs through this album.
The title track opens the album, a bouncy mix of bluegrass, folk, and sweet harmonies, the beautifully layered strings immediately setting to rest your questions about the reduced band members. Lead songwriter Mandee Radford introduces a lot of resonator guitar and more banjo, Cristi Johnson pours on the dulcimer and mandolin to take up the slack, and they never miss a beat. This persevering duo has legs, and it's good to see them making it work so well. The delta-flaired award winning "Hurricane" is up next, bluesy and lush. I especially enjoyed the mid-track breakout of playful, rootsy strings.
That sweet track is followed by another winner, insightful song of bravery "Feels Like a Million Miles." Its warm vocals are accented nicely by twangy strings, delicate finger picking, and organic percussion. "Perfect Love," a song of personal release, features lovely, spacey keys over the layered vocals, while the emotive "One More Angel" is notable for its gentle movements.
My Roots Grow Deeper covers a diverse array of topics, among them the sunny morning benediction "Morning Birds" and the earthy closing pleas of "Tell Me." Also worth mentioning is "Be My Guide," Radford's crystal soprano soaring as she looks to the Lord for strength to face the passing of time. Alathea's intelligent rendition of the classic "Orphan Girl" features strings that flow like running water, its fat rolling chords irresistible.
The harmonies are pristine throughout this fresh, textured offering, the fourth full-length disc from the newly reformatted Alathea, gloriously unstoppable.




© 2007 CMCentral.com. All rights reserved. Used with permission.



Visit CMCentral.com now and join the single largest online community of Christian music fans on the internet. CMCentral features daily music news, exclusive interviews, album reviews, weekly devotions and feature articles written by some of your favorite Christian artists, and much more. CMCentral is also the home of the most popular Forum for Christian music fans that you'll find anywhere on the Internet. Come see what all the buzz is about!