City on a Hill: A Farewell Gathering
Thom Granger

CCM Magazine

2004

23 Jan

COMMENTS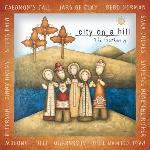 While Christian compilation albums have become popular in the past few years, thanks to the success of the "WoW" series, few really featured songs that united artists to work as a community toward one project and often the same songs ... until a little side project from Essential Records in 2000 debuted. After "City on a Hill — Songs of Worship and Praise" released to critical and commercial success, "City on a Hill — Sing Alleluia" and "City on a Hill — It's Christmastime" followed.
Now on the final and fourth album in the series ("City on a Hill — The Gathering"), "City on a Hill" has become synonymous with partnering "thinking" artists on compelling, intellectually stimulating songs. Not only did cross-label collaborations and offerings from traditionally "non worship" artists such as Third Day, Caedmon's Call, Jars of Clay, Leigh Nash and Nichole Nordeman catch some attention, but a "little" song called "God of Wonders" helped blow open the doors to acceptance and international recognition of the series.
So why stop now? "You don't want it to become factory work, do you?" offers songwriter and producer Steve Hindalong to the inevitable question posed.
"All of these were different in theme but linked in concept and the passion with which they were executed. I didn't think I could sustain that any longer, and I didn't want to impose on the artists in a similar way," explains Steve. "It feels like we've done what we were supposed to do … at least for now."
Hindalong and Derri Daugherty (his partner in the modern-rock band The Choir) laid the foundation the "City on a Hill" series would be built on with their ambitious, if scarcely heard, project "At the Foot of the Cross" in 1991. Recorded for the group's own Glasshouse Records, it featured a group of artists better known in Christian rock circles, who performed original material in musical settings far different than the average praise & worship album.
"That was a great experience for us — particularly for me as a songwriter. It was like taking on a discipline, an assignment — like writing a paper on the four Gospels for seminary. It caused me to dig into the Scriptures in a way I hadn't before, and I found myself really drawn to Jesus in a way that was very good for me. It's also one of the reasons I've had a longing ever since then to be involved with something similar."
A second volume of "At the Foot of the Cross," resonating with Easter themes, was released in 1995. That project was the first fruits of Hindalong's and Daugherty's influence in the Nashville Christian music community, featuring more high-profile artists from the Word label roster. Though not markedly more successful than its predecessor, it nevertheless created an opportunity for Hindalong to get out of his southern California comfort zone and work with a group of artists who varied greatly — even from each other.
A few years on, Hindalong approached then Essential Records President (now Provident Label Group general manager) Robert Beeson (for whom Hindalong had produced one of the label's early bands, Uthanda) with the concept for "City on a Hill," which was originally conceived with the title "Holy Communion." Though some of the lyrics proposed were occasionally questioned by everyone from label execs, to artists, to managers and the like, the project was completed and released in August of 2000.
That's when things really got interesting. "City on a Hill — Songs of Worship and Praise" was not only well received but afforded Hindalong and co-producer Marc Byrd (formerly with Common Children and now of GlassByrd) with the greatest successes of their respective careers to date, including a No. 1 song ("God of Wonders"), a No.1 spot at the top of the Worship charts for the album itself and a Dove Award for Special Event Album of the Year.
Consequently, Hindalong and Byrd were asked for more of the same, not only as producers but (ironically) as songwriters for other artists throughout the industry. As Steve sees it, "The gatekeepers of the worship genre feel the market is very discriminating when it comes to the lyrical content of the songs. I don't think it is; I think they underestimate their audience."
But before bidding adieu to this beautiful "City," we asked Steve and Marc to give us some reflections on working with many of the artists involved in these projects. Both were quick to make the general comment that, according to Steve, "Most of these artists are really good people, humble people who would sing on anything we asked them to sing on. Most of the challenges in getting these things done weren't from the artists but from their managers!"
FFH

Steve:  Jeromy [Deibler] from FFH was the first artist we met with to present songs. We felt strongly that they would do a great job on "God of Wonders." Unfortunately, he didn't like it or any of the songs we played and sort of balked at the whole concept; but he was persuaded by Essential to be part of it. Now he jokes about it, saying, "I'm the guy who turned down 'God of Wonders'! When he came in for the second project, though, he was totally positive; and we had a great time during the making of "The Gathering." That's the thing about the community aspect of this project: You develop relationships, and I grew to really like these people.
Marc:  You know, when you're heavily involved with alternative rock, you can become a musical snob — an elitist who looks down on everybody not involved with that community. I had preconceived ideas about who some of these artists were, but you come to realize that real community is not a group of people who like the same things. Rather, it's getting to know people on a deeper level beyond the differences in personality. It's like C.S. Lewis said when he was a new Christian: He didn't want to go to church because the music stunk, the ladies around him always sang out of tune, and he was smarter than the guy who was preaching. It finally dawned on him that the reason you go to church is because the music stinks, the lady is singing out of tune, and he thought he was smarter than the preacher. That's community.
Third Day/Mac Powell
Steve:  I've never been a fan of southern rock and was apprehensive about working with this band. We cut a song of theirs ["City on a Hill"], and then I asked Mac if he was willing to sing "God of Wonders." I told him that the Caedmon's Call folks had cut vocals for it already, and I was going to use different people for different lines of the song. He agreed to do it, and I don't think either of us understood the impact that song or his performance of it would have. Most surprisingly, he asked me if he could sing "I Remember You," which [the late] Gene Eugene had written for his band Adam Again. I was blown away by his suggestion, and we flew Gene out to play piano on the track. Mac did a great job on that one; and Gene loved it, too.
Gene Eugene
Steve:  In addition to playing on "I Remember You," I had this song "Marvelous Light" that I thought was pivotal to the concept of the whole album; but no artist we had played it for was interested in recording it. Gene sat at the Wurlitzer [electric piano] and took it really slow, and it sounded so cool. We had everybody cut a vocal of this chorus so we could create a virtual "choir" in the studio at mixdown; but when Gene died two weeks afterward, we decided to make his performance of it the lead vocal. It became a nice tribute to a brilliant artist and friend.
Caedmon's Call
Steve:  Cliff [Young] was part of the original concept for the community approach of the album. Everyone in the group is great at what they do; but more importantly, they all did anything they were asked to do with no ego. Danielle sings all over the albums and came up with great ideas on the spot. They lead worship for their local church, so it's not surprising they were into this the way they were.
Jars of Clay
Steve:  Jars was the only band whose members produced its own cuts, partially because of the guys' schedule and partially due to the fact that they are very protective of their sound. One time we didn't get or even hear their contribution to the album until we were at mastering and their song arrived by courier! But when we had them in the studio — particularly Dan [Haseltine] — he would sing all over the record as long as he was there. Jars is such a great band, and they just get better, especially lyrically, with every album.
Nichole Nordeman
Steve:  Nichole is one of those singers who is so good it is hard to discern, in the control room, if she's ever singing flat or sharp. Her professionalism and obvious talent is so intimidating it's overwhelming, really.
Marc:  When Nichole came in for "Sing Alleluia," we played her "You are Holy" — which my wife, Christine, and Steve wrote. But we also played her "Shine Your Light." She wrote the verses and melody for them and one very cool chord change, which, along with this amazing bridge she wrote, really took it over the top.
Fernando Ortega
Steve:  One great example of the community aspect of "City on a Hill" was how Fernando came to be involved. Mac Powell called me from Atlanta and said, "Hey, I'm with Fernando and love his music so much. Is there any way we can do a song together on the next project?" So Mac wrote the chorus to "Our Great God," and then Fernando, who is in Los Angeles, wrote these verses that are really deep and hymn-like. The result was a true hybrid that neither of them would have come up with on his own.
Sixpence None the Richer/Leigh Nash
Steve:  At the time the first album was recorded, Sixpence was a platinum-selling artist with "Kiss Me" all over the radio; and there is no way I should have been able to have them on the record. I talked to Leigh about writing a song for us, and she was really excited because Matt [Slocum] writes most of the stuff for the band. Leigh called me from a little street café in Belgium and played it ["You're Here"] to me with her guitar over the phone. I then approached Matt, who I enjoyed orchestrating, and asked him if he would write a string arrangement for it. Last but not least, he did a 12-string guitar track on it, too. Then we had to get permission from the powers that be to use it, and that was another story … but in the end, it worked out. Leigh was also kind enough to sing on about five other cuts over the course of the projects, and I just love hearing her voice everywhere.
Jennifer Knapp
Marc:  We had never worked with her before or knew anything about her, but she came in and did a great job on "Hallowed." She came in at two in the afternoon on the day she was with us and said, "I'm here, and I'll do anything you want me to do; but my bus leaves at midnight." You can't ask for more than that. She is the one who asked if Phil Keaggy could play on the track; but when Phil heard her guitar track, he said, "She sounds great on this. What do you need me for?"
Phil Keaggy
Marc:  As a guitar player, I've been a fan of Keaggy forever; and when he came in to play, I was just in awe. He would change tunings throughout the track and did it so smoothly, it completely blew my mind. He was sweet and humble and generous, as always.
Sara Groves
Steve:  What an amazing voice and what a down-to-earth person. She's got as good a voice as you'll ever hear. She came in on the Christmas album and did the track while she was in town for Gospel Music Week. She knocked that thing ["Child of Love"] out of the park and then came back around and did one of her own songs on "The Gathering" ["Come Be Who You Are"], which was great.
Bebo Norman
Steve:  Bebo came to our attention through Cliff Young. I first met him at a Christmas party, and he told me that he loved this song "Beautiful Scandalous Night" from "At the Foot of the Cross." So we asked him if he would like to sing the remake of it with Leigh [Nash]; and he was kind enough to do so.
The Choir
Steve:  I didn't originally think Derri and I should be on there. I wrote "Precious Jesus" originally for Third Day, and Derri did the guide vocal on the demo. Robert [Beeson] heard it and encouraged us to go ahead with it as The Choir, with Leigh [Nash] singing along. I love it.
Out of Eden
Steve:  I've always been a fan of theirs. I love hip-hop. I listen to it in my car but have never produced anything in that genre. Lisa [Kimmey] is a great talent and a natural leader musically. I'm very proud of that track ["Do You Hear What I Hear"], and I think we succeeded; but really it's Lisa vocally doing her thing that makes it work.
Terry Scott Taylor
Steve:  Terry (of Daniel Amos) is the patriarch of modern Christian rock, and we wanted to pay homage to him in the way we did with Gene [Eugene] on the first project. Terry was in town with Lost Dogs, and we wrote the central song for the album that night ["It's Christmas Time"]. He wrote and sang another one for the album as well ["Holy Emmanuel"], and I'm so pleased he was able to be a part of this.
Julie Miller
Steve:  Like he had done with Gene's song, Mac [Powell] really wanted to do Julie's song ["Manger Throne"] on the Christmas record. It's from one of her earliest albums, and it's a beautiful song. She was kind enough to sing harmonies on it as well as sing with Derri on "Away in a Manger," which she and her husband, Buddy, had done on our early indie Christmas album, "Noel" [Via, 1995, out of print].
Paul Colman Trio
Marc:  Paul is hilarious and intense, with a great voice. And he's not afraid to take risks in the studio.
Steve:  We were together one night socially, and he started speaking so passionately about the subject of reconciliation in our personal relationships. I said to him, "That's the song I need for 'The Gathering,'" and he and Phil Madeira wrote "Instrument of Peace" for us.
Andrew Peterson
Marc: His song ["Holy Is the Lord"] is getting a lot of comments from people already, especially people with children, who are very moved by it. He's a very gifted artist who loves to tell stories, especially from the Old Testament.
Ginny Owens
Steve:  We had wanted Ginny to be involved with the "City" projects long before she was able to do so. She was the last artist to be involved with the last album. We wrote the song "Open Our Eyes Dear Savior" with Jimmy Abegg; and, contrary to what you might think, we had Michael W. Smith in mind originally. But Jimmy helped to bring it to Ginny's attention, and she sang it real sweetly. She made it her own, changing the chords and melody; and the vulnerability of her performance really made it incredibly intimate.
GlassByrd
Steve:  GlassByrd is Marc and his wife, Christine; and they were behind the scenes for this entire project. So many of the guide vocals on the tracks were Marc's and Christy's, which were erased to make room for whoever ended up on the album. In light of that, I'm really glad that people get to hear their voices on "The Gathering."

© 2004 CCM Magazine.  All rights reserved.  Used with permission.  Click here to subscribe.