Natalie Grant's Never Sounded Better on "Worship"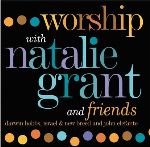 Artist:   Various
Label:   Integrity
"Worship with Natalie Grant and Friends" easily manages the difficult feat of distinguishing itself from the glut of worship products flooding the Christian marketplace. For starters, the album benefits from the snappy production prowess of Grant's husband, Bernie Herms (Avalon, Plus One).
Smartly arranged and energy packed, the album feels live, despite being recorded in a studio. However, the real highlight here is the exceptional singers involved. Grant takes the lead on four of the album's 14 tracks, and she's never sounded better. (That really means something when you're talking about Natalie Grant!)
In addition, she also teams up with the soaring voice of John Elefante, the incomparable Darwin Hobbs and the powerful delivery of Israel & New Breed, as well as a backing "praise team" of six. The results are impeccable, pristine performances that take perhaps overly familiar songs ("Shout to the Lord," "Breathe On Me," "Agnus Dei") and manage to make them fresh again.
With a contemporary/ charismatic feel to it, "Worship" is decidedly multi-cultural in its approach. "Crown You With Praise" has a smokin' Latin vibe to it, while "Let it Rise" falls into the urban/gospel  category. When it needs to be, "Worship" is nearly explosive. Yet appropriately, the album also reins things in when necessary – in a quiet, reverential way, as on "You Are My All in All," a stunning offering that serves as an obvious highlight.

© 2004 CCM Magazine.  All rights reserved.  Used with permission.  Click here to subscribe.