Ones to Watch: Matt Papa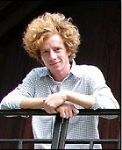 Matt Papa is a singer/songwriter/worship leader from Atlanta, Georgia. He began leading worship at the age of 14, and it wasn't long before he was traveling the country performing in churches, colleges and coffee houses.
Matt's debut label recording, "You Are Good" (Spin 360), was produced by Stephen Leiweke (Plumb, Joel Engle) and released this past fall. See mattpapa.com and myspace.com/mattpapaband for more info.
Paul:  Define success for your music.
Matt:  "The glory of God and the refreshment of the soul."—Johann Sebastian Bach 
Paul:  As a worship leader, do you find it hard to be led in worship by another leader if he or she is not particularly skilled or the band is not that good? 
Matt:  Yes. But, in my early experience as a worship leader, a lot of people showed me a lot of grace when I wasn't any good; so I try to do the same. If the heart is there and the music is not completely painful and distracting, then I can focus on Christ.
Paul:  This is the first record you have made. How was it?
Matt:  An incredible journey! I drove up to Nashville not knowing who my producer was or even what the title "producer" meant. The album was released on an independent level this past January, and God really used it in some cool ways and took it some really neat places. Now, it's been released on a national level, and I cannot believe everything God has done! It is a complete testimony to the power of prayer and the power of God.
Paul:  Which song from your record do you feel best leads people to worship God and why?
Matt:  If by "leads people" you mean congregationally, then I would say the song that best does that is "Unto the One." It is very easy to learn and easy to sing. Lyrically, it comes straight from Revelation 5 and is incredibly God-ward and Christ centered. It shows the worthiness of Jesus through the beauty and the victory of what He has done for us.


© 2006 CCM Magazine.  All rights reserved.  Used with permission.   Click here to subscribe.