Perpetuating Hope: The Music of Ladysmith Black Mambazo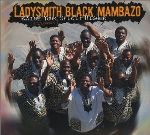 Twenty years ago, the New Republic, in an editorial about the anti-apartheid movement in South Africa, noted the many injustices suffered by the majority black population. That South Africa had not descended into violence and chaos, the editors wrote, was due to the Christian faith of South African blacks.

Christianity has shaped more than the struggle for equality in South Africa. It has also produced memorable art like the novel "Cry, the Beloved Country" by Alan Paton and the music of Ladysmith Black Mambazo.

Ladysmith Black Mambazo, an ensemble whose name is derived from their hometown and the Zulu words for ox and axe, was founded in the early 1960s by Joseph Shabalala. The group is considered to be so representative of South Africa that Nelson Mandela asked them to accompany him when he received the Nobel Peace Prize in 1993.

Like American gospel and blues, the type of music sung by Ladysmith, Isicathamiya, was born of its creators' oppression. Black South Africans, who worked in the mines for little pay and under appalling conditions, sang both to console and entertain themselves. This tradition, when combined with lyrics inspired by Shabalala's Christian faith, results in music that is synonymous with hope and reconciliation throughout the world.

These qualities are on display in the group's latest release, "Raise Your Spirit Higher." Though apartheid is gone, South Africa still faces many problems, including one of the world's highest murder rates. Among the victims was Shabalala's own wife, Nellie.

But instead of giving in to bitterness, Shabalala and the group call on South Africans to "raise your spirit higher" and to remember the God who brought them through oppression. That's the message of a track, called "Wenyuka," in Zulu.

[To hear an excerpt of "Wenyuka," listen online.]

On a more personal note, in the song "Uqinisil Ubada" Shabalala hopes to help others understand why he goes on despite tragedy and suffering: "I have discovered that the Lord is the Light and the Truth [and] this truth prevails in Heaven as well as my home. …"

The result is music that, as Jazz Review puts it, "perpetuates hope despite the concomitant presence of faith-testing hardship." It's the stuff that shapes not only individual lives but societies as well.

[To listen to an excerpt of "Uqinisil Ubada," listen online.]
Copyright (c) 2004 Prison Fellowship.  All rights reserved.  Used with permission.
"BreakPoint with Chuck Colson" is a daily commentary on news and trends from a Christian perspective. Heard on more than 1000 radio outlets nationwide, BreakPoint transcripts are also available on the Internet.
BreakPoint is a production of The Wilberforce Forum, a division of Prison Fellowship: 1856 Old Reston Avenue, Reston, VA 20190.