Stellar Kart's Rookie Bow Delivers Fast-Paced Pop/Punk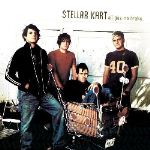 Artist: Stellar Kart
Title: "All Gas. No Brake."
Label: Word
Considering Stellar Kart's members are fairly fresh out of high school, "All Gas. No Brake." could just as easily be their driving style as it is the name of their rookie bow. Then again, the title does reflect the band's style, which is fast-paced pop/punk with a touch of West Coast attitude.
With the average song clocking in at fewer than three minutes, "All Gas. No Brake." speeds through charged-up punk songs like "Second Chances" and the suicide-themed "Superstar."
Lyrically, the self-produced disc shifts effortlessly between humor and seriousness and even dabbles in allegory with songs such as "Gone Fishin,'" about the gospel's Great Commission. Overall, the album's musical pulse remains high energy, only turning down tempo for the worshipful "A Love Song" and the acoustic-driven "Finish Last." With Stellar Kart's background as a youth group band in Phoenix, Ariz., the reverent tracks come off naturally with ease and flow.
The only questionable track, ironically, is a cover of Bon Jovi's "Livin' on a Prayer." It's uncertain which is scarier: the idea they might have thought the song had some spiritual significance or that the band actually likes Bon Jovi. Either way, it's the band's only venture into Jersey rockdom, as the rest of the disc remains firmly planted in the youth-powered punk of songs like "Student Driver."
Though "All Gas. No Brake." might be the wrong album to play in the car of a real student driver, this disc fits perfectly in any teen's punk rock collection.
Check out the Stellar Kart music videos at Godtube.com.

© 2005 CCM Magazine. All rights reserved. Used with permission. Click here to subscribe.