Taff Brings Out Big Band Stylings on Sentimental Christmas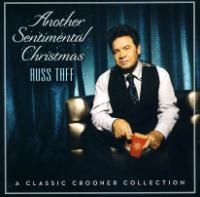 Artist: Russ Taff
Title: Another Sentimental Christmas
Label: Spring Hill Music Group

Taff's sophomore Christmas album brings big band stylings of the greats to life …

Known for 1980's classic "We Will Stand" as well as his tenure with renowned vocal groups The Imperials and The Gaither Vocal Band, Russ Taff has a resume any artist would be envious of. His first Christmas album, A Christmas Song (Sparrow), in 1992, was hailed as an annual classic, so fans have been waiting a long time for a second installment of holiday offerings. And Taff serves them well with his new seasonal collection, Another Sentimental Christmas.

Produced and arranged by Taff's longtime friend and famous jazz composer James Hollihan, the album finds Taff following the big band traditions of greats like Bing Crosby, Frank Sinatra and Tony Bennett. His unique, gravelly voice is handmade for these songs. Taff covers classics like "The Christmas Song," "Christmastime is Here," "Jingle Bells" and "Winter Wonderland." His rendition of "Silent Night" stands out from the pack only because it showcases the pristine power of his voice with little to no instrumentation. The jaunty opener "Go Tell It On the Mountain," is also another standout, setting the tone for the joyful sounds of the rare cuts and traditional favorites.

Though Taff sounds good on all of these holiday treasures, the rare tracks make this album a unique experience from front to back. "Count Your Blessings (Instead of Sheep)" is a beautiful lullaby that brings out the feelings of gratitude this time of year evokes. Written by Irving Berlin for the 1954 move White Christmas, the song was first made popular by Rosemary Clooney and Bing Crosby, among others, setting the bar high for Taff. Taff's version falls right in line with the original vocals of these well-respected singers of yore.

"Christ Is Born" is another interesting selection, written by Ray Charles and Domenico Bartolucci, which Taff turns into a worshipful ballad full of sincere, explosive vocals of praise. Album closer "Peace" is a rare selection penned by Michael McDonald and Beth Nielsen Chapman. Though not specifically a Christmas song, it beautifully personifies our relationship with Christ and how His presence in our lives makes all the difference. Taff's warm vocals wrap around the lyrics like a gift.

The musical stylings incite feelings of peace, joy and hope—all of the good things the holiday season brings. With Another Sentimental Christmas, Taff gives a memorable collection of songs that provide a pleasant classic soundtrack to the season. If you're a fan who's been waiting for a follow-up to his first Christmas effort or just a lover of quality Christmas music, this album will satisfy your sentimental side.


**This review first published on November 4, 2010.