The Life and Times of Absolute Truth - Music Review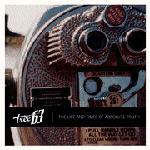 Artist:    Tree63
Label:   inpop Records
Tree63 returns with a sophomore album full of great hooks and more fun. 
Despite the band's success at pop radio in its native South Africa, it remains lyrically blatant in its spiritual intent.  That said, it should be noted that this is not just another "modern worship" band, contrary to what many American fans seem to think. 
Tree63's songs also touch on elements of love, confusion and heartache; and vocalist John Ellis makes them all sound equally good.
Throughout Times, there are flavors of U2 and Delirious as well as other current import favorites.  The music is modern without being trendy; the lyrics are spiritual without a trace of being trite.  This one's a winner.
Used by permission.  CCM Magazine © 2002
Buy The Life and Times of Absolute Truth now at www.lifewaystores.com!