"Think About That" - Music Review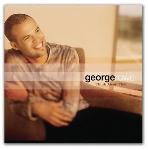 Artist:    George Rowe
Label:   Rocketown
George Rowe III bares his "soul" on "Think About That," his debut album. With a clear, gorgeous voice that brings to mind Justin Timberlake or an early version of Michael Jackson, Rowe easily carves out a unique place for himself in Christian music.
Rowe, a New Jersey native, recorded the soulful pop album in Los Angeles with producer Brian Steckler and executive producer Brent Bourgeois, helping to avoid some of the Nashville musical clichés other artists can occasionally fall into. Don't let the George Rowe has got soul to spare.rather standard "adult contemporary" sound of the first single, "Everlasting," fool you.
The two best tracks here are "Blessed Assurance" and "Broken," the latter written in what Rowe calls a "valley moment" of difficult testing and uncertainty. Both songs make it clear that Rowe needs to be taken seriously not just for his standout voice but also for his ability to pen a great song. And after surviving severe abuse as a young child (before being adopted into a loving home) to go on to law school, Rowe better also be taken seriously as an overcomer with the ability to stay the course in a field crowded with new artists.
Comparisons are not easily drawn for Rowe, but fans of The Katinas, urban wunderkind Smokie Norful or songstress Crystal Lewis should be pleased. At times the album may even make you think about an R&B classic from Stevie Wonder or more contemporary artists such as Indie.Arie or Musik.
With a unique voice and plenty to say, George Rowe proves he can musically bridge the black/white divide with a message of hope, peace and salvation.

© 2004 CCM Magazine.  All rights reserved.  Used with permission.  Click here to subscribe.