Thousand Foot Krutch Trades Hip-Hop for Rock on Third Disc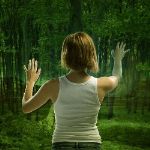 Aritst: Thousand Foot Krutch
Title: "The Art of Breaking"
Label: Tooth & Nail
On its third disc, the Canadian rock trio Thousand Foot Krutch continues to leave most of the hip-hop flavor that surfaced on its first album behind in favor of a punchy, crunchy, modern rock sound. There's still a raprock remnant here and there, as heard in the sing-song chorus of "Hit the Floor," but for the most part singer/guitarist Trevor McNevan leads TFK in angst-y, yet melodic, hard rock.
With lyrics like "Fill me in, turn me inside out/ Sometimes I feel like just letting go and screaming out loud" (from "Make Me a Believer"), Krutch's music and message are focused on the profound tensions of an immediate crisis, an either/or experience requiring instant response. Nevermind that much of life is a lot more subtle than that; they want the clarity of an "Absolute," and in "Move" they demand that we "either scream or rejoice/ Let's make some noise/ Either move or we will all be destroyed." ("Move" happens to be the album's lead single, and you can bet TFK is looking for the same kind of mainstream airplay that made the band's previous breakout hit, "Rawk Fist," such a favorite in 2004.)
Generally, Thousand Foot Krutch's apocalyptic urgency works with and for the music. Aggressive rhythm guitars and plaintive melodic cries recall the more recent sound of Helmet and much of the alterna-rock that makes it onto mainstream radio these days. That energy matches McNevan's voice to the drums in "Slow Bleed," which thrives on a sense of drama, an expectation of immediate decision and response. And the same can be said of "Hurt" and other strong songs here.
Overall the language and ideas expressed early in the disc seem limited by focusing on the choice that leads to brokenness, as in the title "The Art of Breaking." It's a reflection of the understanding that we reap what we sow, unless the cycle is interrupted by God's forgiving grace. It's also something that is more or less resolved in the disc closing "Breathe You In." Here, a personal relationship to the Divine is a source of healing, a way into a new world, as suggested in the smart cover art.
You can watch Thousand Foot Krutch music videos at Godtube.com.

For more information about "War and Peace," please visit RandallGoodgame.com.


© 2005 CCM Magazine. All rights reserved. Used with permission. Click here to subscribe.