Virtue Shares a Solid Gospel "Testimony"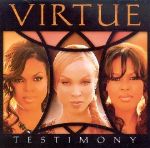 Artist:  Virtue
Title:  "Testimony"
Label:  Integrity Gospel
If something happens to you, good or bad, chances are that you want to tell someone else about it, right?

Life is just much more enjoyable when it's shared with those around us. For this reason, if for none other, it should be natural for Christians to share their faith with their friends and family. Despite feeling like you may not have a compelling testimony or that people will be put off by your excitement, your story is a big part of your life and a major component to who you truly are. If shared appropriately, your acquaintances will be happy to share that part of your life rather than being turned off or offended.
For the modern gospel trio known as Virtue, their testimony is not only an important part of conversation, but it's also the title of their latest release. Produced by Fred "Uncle Freddie" Jerkins for DarkChild Gospel, "Testimony" finds the group entrenched in thick R&B hooks with a lot of hip-hop influences (including a guest appearance from T-Bone). The album offers encouragement for listeners by way of sharing your testimony ("Testimony", "Thank You Jesus"), praising God for who He is ("Holy, Holy", "Give Him the Praises"), continuing to serve Him ("Get Up"), and rely on Him ("Sky Is the Limit").
Musically, the album is quite up to date and very catchy. Whether it's the slower ballads such as "Fall Again" and "Nothing Ever Mattered," the mid tempo choruses such as "Get Up" and "Follow Me," or the all out bangers like "123 Praise!" and "Down With It," the trio shows a nice versatility and range reaching listeners of all generations. Key tracks include the title track with a nice presentation of the album's theme, "Give Him the Praise," which offers a head-nodding rhythm and a great message and "Holy, Holy," which is a straight worship ballad.
All in all, Virtue manages to capture a snapshot of the entire gospel sound in one album. There's modern gospel, traditional gospel and just about everything in between. "Testimony" is a very solid gospel album that is sure to find it's way into many hearts of listeners from all walks of life.


© 2006 CMCentral.com.  All rights reserved.  Used with permission. 

Visit CMCentral.com now and join the single largest online community of Christian music fans on the internet.  CMCentral features  daily music news, exclusive interviews, album reviews, weekly devotions and feature articles written by some of your favorite Christian artists, and much more.  CMCentral is also the home of the most popular Forum for Christian music fans that you'll find anywhere on the Internet.  Come see what all the buzz is about!